HAMANN launching beautiful Evoque Convertible tuning pack

Tuners customizes thoroughly the challenging SUV
Range Rover Evoque Convertible was initially rather a suspicious project. However, the SUV looks strangely charming and waves at those of you who are not afraid to express their individuality. HAMANN Motorsport has actually worked on this arty vehicle and has recently released a refinement package worth ones attention. The result, the Evoque Convertible becomes immediate eye-catcher.
Being the world's first open SUV, this is kind of tempting project to work on. The refinement pack made by the tuner enhances the stylish character of the vehicle and makes it even more inviting. Basically, it comprises of brand-new aerodynamics components, which also offers wide body option, high-quality wheel/tyre combinations, fine accessories, and power enhancement.
SEE ALSO: HAMANN Releases Special Aero & Performance Packs for X4 and X6 [w/videos]
HAMANN's alternative to the standard versions is least to say attractive. Replacing the good by the better, the experts added new front skirt for the Evoque Convertible, two-part grille, new and more sophisticated air intakes on both sides, and fibre-optic daytime running lights. At the rear, there is an entirely new rear skirt that features black or silver anodized HAMANN tailpieces of the sports exhaust system.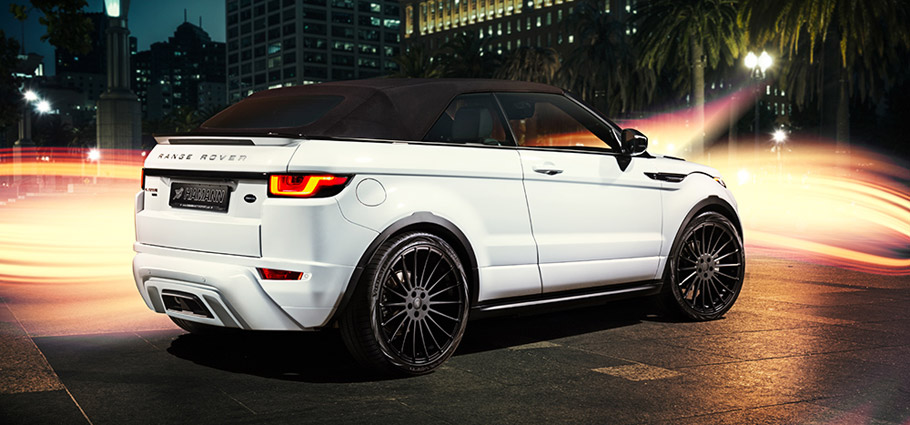 The engine tuning supports the strong appearance. With the help of an ignition map optimization, the ED4 diesel receives considerable extra power: precisely, it jumps from 150 hp to 181 hp (110 kW to 135 kW), while the torque – from 380 Nm to 460 Nm. After the uprating, the Si4 petrol engine boasts a power advancement of 20 hp, making it to a total of 260 hp (177 kW to 191 kW) and 480 Nm instead of 420 Nm.
Well, that's kind of nice conversion of Evoque's little brother, isn't it? Below, you can watch a video with the HAMANN's project, and see for yourself how perfectly it fits on the road.
Source: HAMANN