Hennessey Ford Mustang HPE800 is the hardest and most potent pony car so far
Hennessey Performance is celebrating its 25th anniversary with the limited edition model
It is all about horsepower when it comes to Hennessey Performance. These guys do not need any introduction or whatsoever. They are actually making 25 years of thriving and success (Viper is jealous now) and to commemorate this, they have created a really special Mustang series. Let's not exaggerate things and say that this is only a visual update to what they have achieved so far with their latest Mustang HPE800.
What do we have underneath the hood of the 'Stang? A supercharged unit of the powerful 5.0L V8 engine. How much power does it deliver? It is now capable of way more horses than the stock ones, precisely: 804 bhp (591 kW) at 7,000 rpm and 878 Nm (648 lb-ft) of torque at 4,400 rpm.
SEE ALSO: Which is World's Fastest Convertible? [w/video] 
Performance-wise, the acceleration time to 60 mph from standstill happens within an instant. Well, a little bit more – just in 3.1 seconds, while the quarter mile is reached in 10.7 seconds. The top speed now goes beyond 207.9 mph.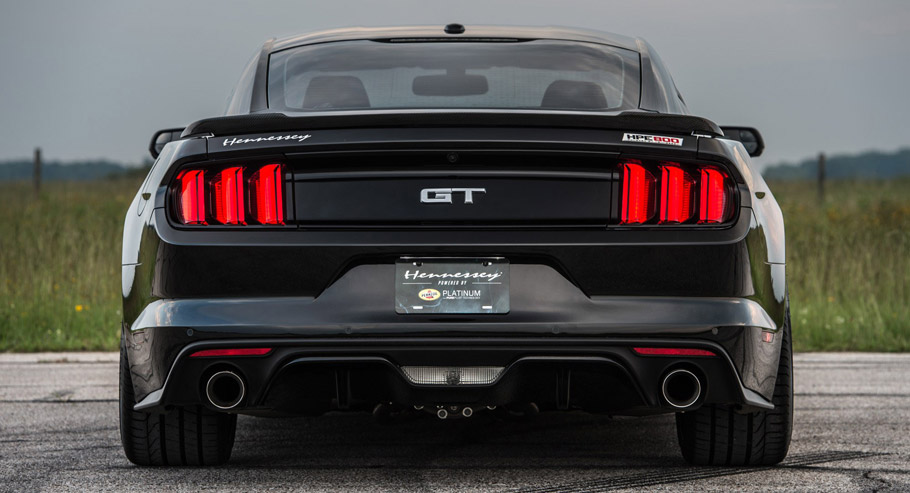 There are also some significant updates that help the car extract as much power as possible and they are made to the fuel and intake system. The fuel pump as well as the injectors, the custom intake ducts have all been subjected to an upgrade.
Visual updates are probably the most exclusive part of this project, since they make it stand out and also show that it is an anniversary edition. A lot of carbon fiber has been involved here – the precious material has been used for the covers, front splitter, side sills and rear lip spoiler. Riding on beautiful 20-inch H10 alloys mated with Michelins, this Mustang is ready to conquer mountains and any tough road in general. A lot of badging is showing the significance of the here presented anniversary muscle car.
Hennessey Ford Mustang HPE800 25th Anniversary Edition will be produced in only 25 examples. So if you want one, you'd better hurry. I'm definitely counting my money.
Source: Hennessey Performance