Hofele Design Audi SR 8
Hofele Design has revealed their tuning program for Audi's flagship – the A8 D4. The name of the project is SR8 suits perfect to the mighty look of the big car.
Hofele-Design Audi SR8 comes with an aggressive body kit including a complete front bumper with original RS5 mesh inserts, a rear apron with diffuser, a 4-tube sports muffler and a rear trunk spoiler.
The car stands on enormous 9J x 20" or 10J x 22" alloy wheels fitted with low profile performance tires. The electronic speed-related lowering module ETS lowers the Audi A8 with air suspension up to 40mm. The system is only active on speeds under 70 km/h, on speeds over 70 km/h the system is deactivated to give the chassis its full comfort and security.
The mighty 4.2 liter V8 FSI is boosted from 372 PS to 390 PS and the 4.2 TDI CR is tuned from 350 PS to 390 PS and sensational 900 NM.
The interior boasts a bi-colour leather interior. The two-coloured seats have a quilted stripe made of soft nappa leather which crosses the seats in the middle. This wonderful masterpiece is available with special stitching and as a combination of different premium materials like smooth leather, rough leather or Alcantara (ecsaine / ultrasuede). Also available are leather-covered door panels and a steering wheel.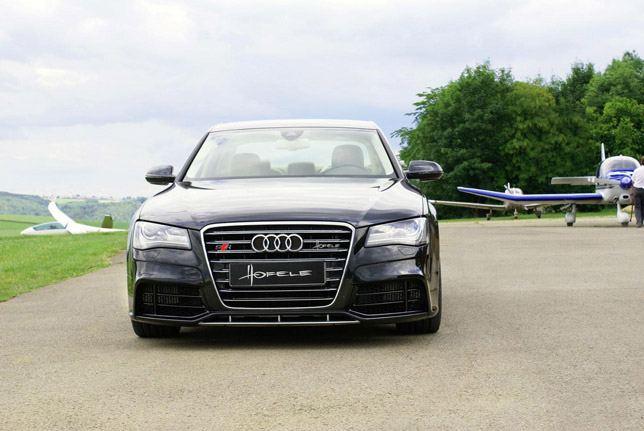 Source: Hofele Design