Immerse Yourself in the 360 Experience of Honda Moto GP vs Type R vs Touring [VIDEO]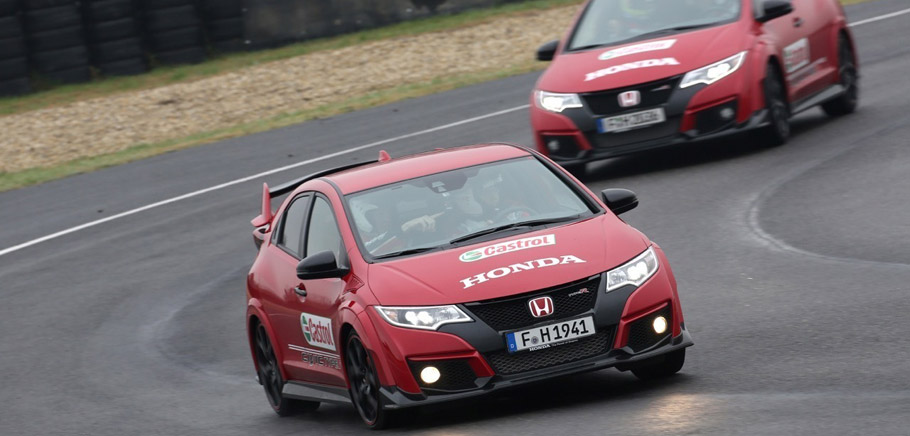 These two videos are dedicated to all Honda fans around the world. It isn't a secret that I am a crazy fan of Honda Type R, and when I saw (and "participated") in this video I was so excited that wanted to immediately share it with you. If you have ever wanted to experience the feeling of riding alongside Honda World Touring Car stars Tiago Monteiro and Gabriele Tarquini, then I have good news: you can now do it.
How is this possible? Via a breakthrough filming technique, which captures the action in 360 degrees. Therefore you can ride alongside Gabriele in his Civic Type R, and Tiago in his Castrol Honda Civic Touring Car, as they power around the Italy's Circuito Tazio Nuvolari. The only disadvantage is that this happens only virtually.
SEE ALSO: Honda Civic Type R is Finally Here [VIDEO] 
In this 'video', Tarquini was accompanied by Gordon Shedden, Matt Neal, and Jack Clarke. They make a quartet of gleaming Type Rs attempt to hold off a rampaging Monteiro and 2015 LCR Honda MotoGP star Jack Miller on his Honda RC213V.
Wonder who will claim bragging rights in this strange two- and four-wheel racing competition? You have to find out by watching the video below. I promise you that you will witness a hot-lap like no other, shot as part of an event that displayed the technical relationship between Honda and Castrol, as well as the race-bred Honda Civic Type R .
Now, immerse yourself in the 360 experience and drag around your screen, or turn your phone to follow the racing action!
To find out more, check out our event recap watch this video:
Source: Honda Racing 2015