H&R Ford Edge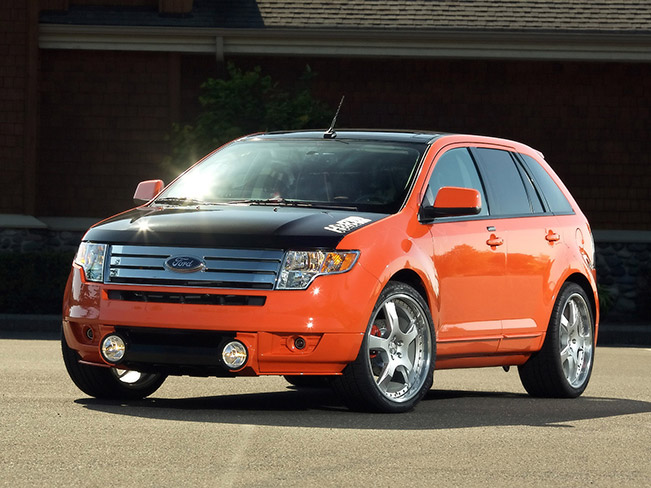 One look at the new 2007 Ford Edge and you'll have the urge to hit the open road. The Edge must be driven, and the H&R Edge, with it's bold style and brash stance is your ticket to the world ... and beyond. The energy of the new Edge makes getting to where you're going so much fun the long way is the short way.
Combining sport utility capability with the driving dynamics of a sports car, H&R Sport Springs lower the Edge 2" for improved handling and superb ride. H&R Trak+ Wheel Spacers provide a precision fit H&R stance and dynamic side profile while H&R Triple C Camber Adjustment Bolts keep everything in spec. Big 22 X 10 OZ Giotti 3 - 3 piece wheels and Pirelli Scorpion Zero Asimmetrico 295/30R22 tires give the H&R Edge a powerful, muscular stance and athletic maneuverability that is perfect for both the hairpin turns of the Pacific Coast Highway or the busy streets of New York City.
The Gemballa bright orange exterior is eye-catching whether bathed in sunshine or silhouetted in moonlight and the subtle Pearl-Ghost world graphics add a hint of mysterious elegance. The exclusive panoramic Vista Roof lets the sun shine in with an expansive view that spans nearly 40% of the total roof area. The H&R Edge also features a blacked-out race-like hood, a Camtec custom composite front bumper light pod with an integrated wind-splitter and Hella Celis LED lamps that give a high-tech night effect for cool city cruising.
When you're on an extended road trip, great sounding music keeps you on track and entertained. The H&R Edge showcases the Ford factory premium stereo system which features an AM/FM stereo, 6-disc CD changer, 4 speakers, MP3, Sirius Satellite Radio and a touch-screen DVD-Based Navigation System.
To look good you must feel good, and the Waimea Cliffstone leather interior coddles you in relaxing splendor. Combined with Mauna Loa Ash Mica accents that enrich your comfort therapy, you'll want to drive forever.
Freedom of mobility with ease spotlights the Edge as a capable, more practical SUV. The H&R Edge is the ultimate road cruiser that can take you where you want to go... from high-altitude to high society. The Edge is the car to do things and be seen doing. Drive to the edge of your world!