HRE Lamborghini Gallardo Super Trofeo Stradale C99S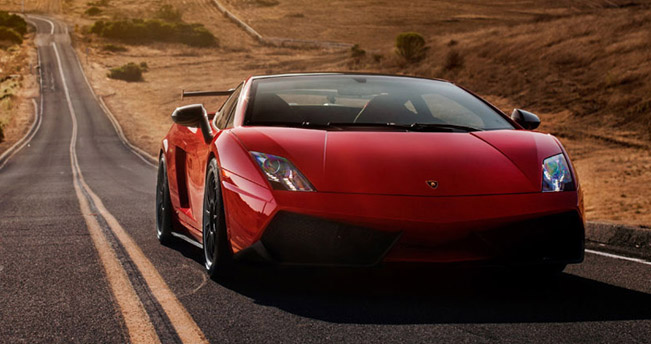 HRE Lamborghini Gallardo Super Trofeo Stradale C99S is another supermachine tuned by the unstoppable HRE Performance Wheels team. This limited edition Super Trofeo Stradale is in fact one of the hundred and fifty examples produced.
Being a true Lamborghini it boasts stunning power-to-weight ratio of 2.35 kilograms per horsepower and has a breathtaking performance. It sprints from 0 to 100 km/h in a mere 3.4 seconds and reaches 200 km/h just 10.4 seconds later. Its forward thrust finally tops out at 320 km/h.
Furthermore the supersports car is equipped with the powerful V10 powerplant, which generates 570 horsepower (420 kW) at 8000 RPM. The maximum torque is equally impressive, with the torque curve peaking at 540 Nm (400 lb-ft) at 6500 RPM.
The tuners have given this Rosso Mars Red beauty a set of their C99S with 19 inches front and 20 inches rear wheels. These include now updated designs creating the latest in lightweight technology for Motorsport and Street applications.
The car also features an aggressive rear diffuser, carbon composite rear aero spoiler and quick-release engine cover.
Source: HRE Performance Wheels