The Beginning Of The Vorsteiner Lamborghini LP-550/60 Renazzo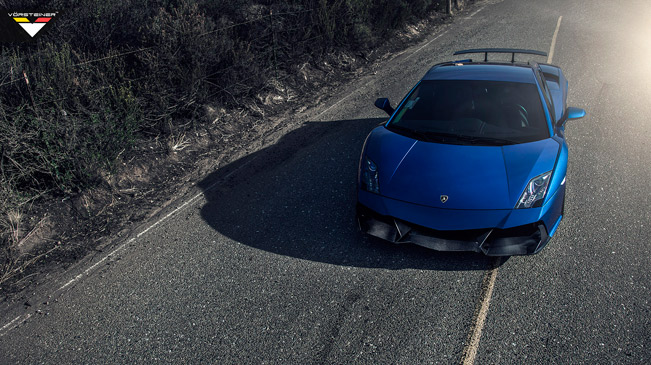 Finally, some actual news from Vorsteiner. It's not much, but it will have to do for now. We're talking about a new front piece for the Lamborghini Gallardo. Called the Renazzo, it replaces the OEM fascia with a distinctive carbon-fiber bits end vents. The tuners have called the Lambo featured in this gallery the Vorsteiner Lamborghini LP-550/60 Renazzo. We're guessing the logic behind the name is that the piece fits both the LP-550 and LP-560?
The 2x2 carbon composite pre-preg construction features two floating aero fins and honey comb mess grills. As an option, there's, again a 2x2 carbon fiber, center splitter add-on piece and dual fins for even more looks and (possibly) stability.
The design didn't just come out from thin air. Vorsteiner's partial source of inspiration was the Gallardo Super Trofeo race car that competes in the Lamborghini Blancpain Super Trofeo league. The Renazzo project aims to bring that concept onto the streets.
Yes, there will be more Vorsteiner bits coming out to complete the program. Oh, and the wheels featured here in this gallery belong to Vorsteiner's Forged VSE-001 one-piece line. We'd venture 20-inches in size.
Source: Vorsteiner