Hyundai describes the new 2015 i20 in detail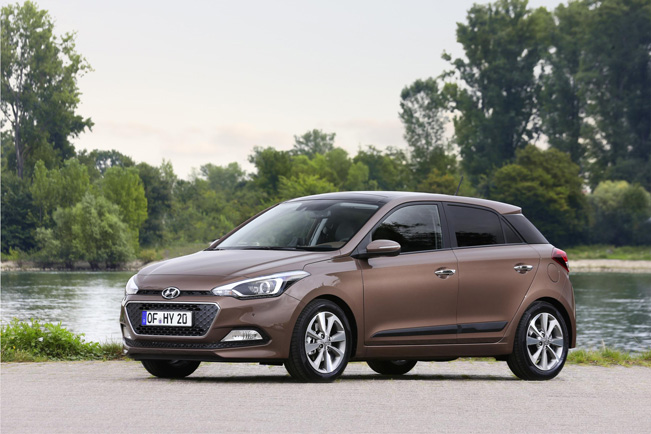 The new 2015 Hyundai i20 is nothing new nowadays as the car has been in the news for weeks but despite all the information online the car has not been described in detail. Well, this is something that we will do now thanks to abundance of information that comes straight from Hyundai.
As shown before the new vehicle will come with numerous improvements and new features that are designed to make your life on the road more pleasurable and safer. The i20 delivers on all fronts when it comes to the car. Thus you can expect to find a sophisticated design, elegant lines and refined details, more internal space that makes the car a true five-seater, unique in-segment features and much more. Designed and developed in Europe, the new i20 tries to meet the demands and needs of European customers who are interested in class-leading interior space, high-technology, comfort-enhancing features and clean and refined design.
The new car is longer, lower and wider than the previous model thanks to the inspiration received from the company's Fluidic Sculpture design philosophy. The wheelbase is extended by 45 millimeters to 2570 mm, which means there is more space for the occupants inside. The class-leading interior space of 1892 mm combined front and rear legroom makes the new i20 a true five-seater car, while the outstanding boot capacity of 326 liters heightens the vehicle's versatility.
The vehicle has also been fitted with a number of new technologies that provide levels of comfort and convenience normally associated with large-vehicle segments. For example, the inclusion of front and rear parking assist, heated steering wheel, static bending headlamps and automatic defog system are firsts for a Hyundai B-segment vehicle. Additionally, the lane departure warning system is another innovative feature, normally found in higher segments. The unique-in-class panoramic sunroof, able to both tilt and fully open, enhances the comfort and the sense of space for occupants, filling the cabin with natural light and fresh air. The extensive use of lightweight high-strength steel in the platform and bodyshell has yielded a reduction in the core weight of the vehicle, as well as a significant improvement in torsional rigidity, reducing vibrations when on the move and aiding handling performance. The car looks great on the outside – it features nine exterior colors to choose from that include two solid (Baby Elephant and Polar White), four metallic (Mandarine Orange, Iced Coffee, Sleek Silver and Star Dust) and three pearl (Aqua Sparkling, Phantom Black and Red Passion) colors. Inside customers can choose among four colors: Comfort Grey, Elegant Beige, Cappuccino and Blue Grey, while the leather seats are black, featuring distinctive color stitching.
As to the engines provided the new 2015 i20 features a choice between two Hyundai "Kappa" gasoline engines and two "U-II" diesel units. The gasoline engines feature displacement of 1.25 liters and 1.4 liters with the first engine being available in two models. Thus you can get a 1.25-liter low power unit that delivers 75 HP (55 kW) at 5,500 rpm and 122 Nm (90 lb-ft) of torque at 4,000 rpm and a high-powered 1.25-liter engine that gives out 84 HP (62 kW) at 6,000 rpm and the same 122 Nm (90 lb-ft) at 4,000 rpm. The 1.4-liter unit is the most powerful of all i20 gasoline engines – it has 100 HP (74 kW) under the hood at 6,000 rpm and 134 Nm (99 lb-ft) of torque at 3,500 rpm. The outstanding features of the Kappa engine's modern architecture include dual overhead camshaft (DOHC), dual continuously variable valve timing (CVVT), a very stiff cast aluminum block with cast iron liners, aluminum cylinder head, lighter connecting rods and maintenance-free long-life timing chain.
The diesel family of engines includes two units – a 1.1-liter powerhouse that has 75 HP (55 kW) at 4,000 rpm and 180 Nm (133 lb-ft) of torque at 1,750-2,500 rpm and a 1.4-liter unit that delivers 90 HP (66 kW) at 4,000 rpm and 240 Nm (177 lb-ft) of torque at 1,500-2,500 rpm. There's also a choice between five-speed and six-speed manual transmissions and a four-speed automatic transmission.
The new car delivers a lot when it comes to safety too. Occupant and pedestrian safety are a key priority for Hyundai and this is why the car comes with numerous active and passive safety systems. There are six airbags in the car that sit up front, to the side and in the curtains. The stronger body shell and chassis of the car means there will be fewer injuries in case of an accident. In addition to that the vehicle comes with Electronic Stability Control (ESC) and Vehicle Stability Management (VSM), which work in combination to reduce wheel spin or loss of vehicle control on low-friction road surfaces. The ESC has been carefully tuned to be as unobtrusive as possible during driving, creating a natural and comfortable driving experience. The implemented Emergency Stop Signal (ESS) system, which activates the hazard warning lights if a driver suddenly brakes heavily, warns drivers of following vehicles of the car's rapid deceleration. Finally there's a Lane Departure Warning System (LDWS) that alerts drivers if they are veering off course without signaling their intention to change lane during motorway driving.
The new 2015 Hyundai i20 will be 100 per cent built in the company's plant in Turkey. The plant has a capacity for 200,000 cars per year so market demand, at least in Europe, should be easily met.
Source: Hyundai Motor Company