2012 Hyundai i20 Prices Announced
2012 Hyundai i20 debuted a more than a month ago at the Geneva Motor Show. And now Hyundai is announcing full pricing and specification for the new model. It will be available for purchase starting from 7th of May.
The new Hyundai i20 prices start from £9 995, which goes for the three-door 1.2 petrol Classic model. On the other hand the most expensive - 90ps (66 kW) 1.4 CRDi Style model costs £14 295.
What is new in the i20 is the enhanced interior, which includes new wheel designs plus a hexagonal front grille. Additional design changes to the front end feature new rounded front wings while the reshaped bonnet and headlights continue the theme along with new fog light clusters and daytime running lights.
Observed from behind, i20 has a redesigned rear bumper and taillights.
The interior of the Hyundai model is entirely made from high-quality materials, which deliver soft-touch plastics. It also includes a revised and classier centre consol along with updated seat trims.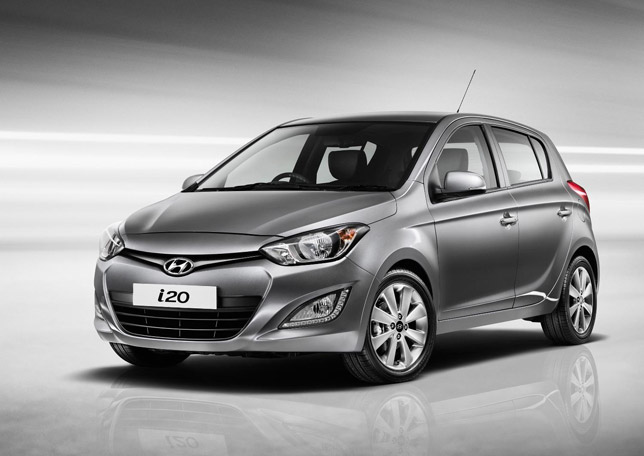 2012 Hyundai i20 is available in three main trim levels: Classic, Active and Style. In each model is included broad list of standard specification featuring remote central locking, six air bags, air conditioning, ESP and, for the first time on i20, Vehicle Stability Management.
In addition to this the brand has added inside even more value with the feature of Active trim, which adds 15-inch alloy wheels, Bluetooth with voice recognition, electric/heated door mirrors, front fog lights, leather steering wheel and gear knob and electric rear windows (five door bodystyle) when compared with Classic.
Thirdly, the range-topping Style comes with 16-inch alloy wheels, automatic headlights, rain sensing front wipers, climate control along with an automatic dimming rear view mirror with an integrated reversing camera.
There is also available the optional Convenience Pack, which encompasses keyless entry, engine Start/Stop button, chrome exterior door handles and supervision cluster.
Another important highlight is that the i20 range will feature the cleanest internal combustion diesel engine in terms of CO2 emissions with the 1.1-litre unit emitting just 84g/km.
In details the improved 1.2-litre petrol engine, is now cleaner, more efficient and more powerful than the model it replaces. The maximum output it creates is now 85 ps (67 kW). Additionally, it delivers improvements in fuel consumption estimated from 55.4mpg to 57.7mpg on the combined cycle, plus emissions reductions from 119g/km CO2 to 114g/km CO2.
All these facts make the 1.2 petrol engine one of the most efficient ones in the world.
Moreover, the 1.2-litre petrol i20 is now available in Style trim.
The Blue Variant of the i20 is powered by Hyundai's ultra-efficient 1.1-litre "U-ll" three-cylinder diesel engine. The latter is combined with Intelligent Stop and Go and low rolling resistance tyres emits a mere 84g/km.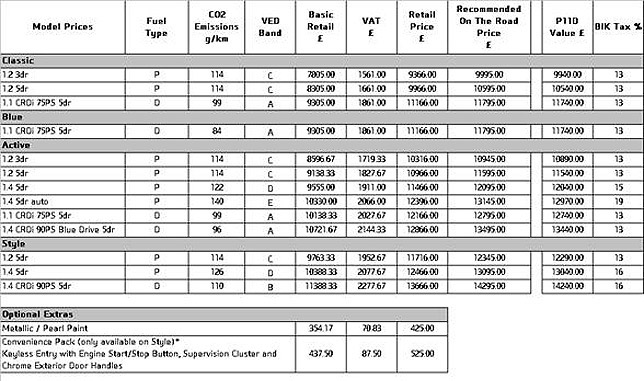 Source: Hyundai