IFR Aspid approved for Britcar racing championship
The new IFR Aspid sports car has received approval to compete in the Britcar endurance racing car series.  The high performance road car, which already meets FIA security specifications, was sanctioned for the championship at a meeting between IFR founder Ignacio Fernández and Britcar founder James Tucker held at the Autosport International racing car show.
"I'm delighted that teams will now have the opportunity to race the Aspid in this championship series," says Fernández.  "The car was designed from the outset to meet FIA as well as EU regulations, so is unique in being a genuine ready-to-race high performance road car.  No additional preparation is required to go racing, so teams will find it extremely affordable."
"We welcome this all new player to the grid," added Tucker.  "We created our endurance race car championship in 2002 with a new set of rules to attract a wide diversity of entries and the Aspid brings an exciting new addition to the series that will add to the racing and overtaking spectacle."
Tucker has confirmed that teams can enter the 270bhp naturally aspirated Aspid sport model in keeping with the series' power-to-weight ratio regulation.  Due to the car's extreme lightweight design, the 400bhp supercharged supersport model was considered at this stage to give too much of a performance advantage for Britcar racing, but will be considered for a possible new class of higher power-to-weight ratio race cars in the future.
Racing car driver, Rob Hedley, has already expressed an interest in putting together the first team to race the new car and is lining up potential sponsors.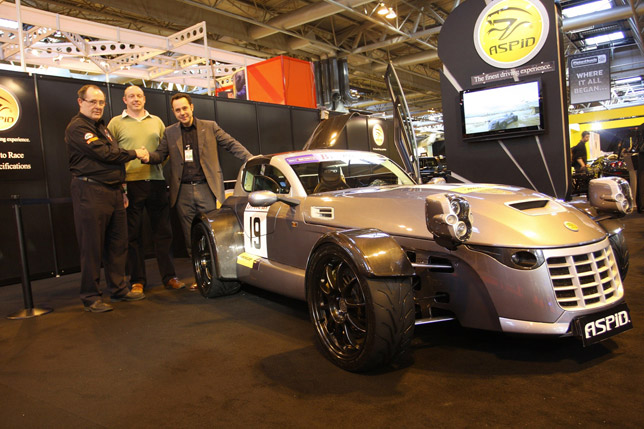 "I knew I wanted to race it when I first heard about the car," said Hedley.  "The Aspid is a brilliant piece of automotive engineering, developed from first principles, and should prove highly competitive.  It's also immensely strong and offers a robust, reliable and cost-effective racing opportunity."
The car attracted a high level of interest at the Autosport and PistonHeads show, when it was shown for only the second time in the UK, following its debut at the British International Motor show last July.  Racecar enthusiasts and motor industry professionals had a rare opportunity to see it close-up and examine its exciting new technology and design features.  Ignacio Fernández, who put together the team of automotive engineers that created the car, was on hand to explain how the Aspid manages to outperform even a World Rally Championship car as well as most supercars ... and at a fraction of the price.
The award-winning Cataluña based company he founded five years ago, IFR Automotive, was established to help develop innovative green technologies based on new lightweight automotive designs increasingly required for the mainstream car market.