History On Wheels: Chevrolet Camaro /1993 - 2012/
Since its production in 1967 Chevrolet Camaro became an emblematic muscle car model which had captured and still enchants many hearts (including mine). With its distinctive exterior and strong stance, combined with an outstanding performance throughout its 45 year s of history, it is no surprise that it has become one of the iconic cars of our society.
Through the years from its first appearance in the automotive world, till 1992, the model underwent three transformational stages, through which it's exterior, interior and performance were improved and eventually made the car famous.
In 1993 began the production of fourth generation Camaros. Until the year of 2002 they had a strong presence on the market, although after 2002 there was a eight year break in the production of the model.
In this period the car was even lighter in weight. It was made from plastic body panels over a steel space frame. In addition it had several optimizations in terms of suspension, for instance. What was new here was the LT1 V8 engine mated to a six-speed manual transmission. However, the V8 engine didn't come as a standard but was optional instead and only went standard on Z28 models. As a standard came the 160 hp (118 kW) 3.4 L V6 engine working with a five-speed manual or four-speed automatic transmission.
No matter how much it had change through the years, Chevy Camaro manged to retain its main characteristics, which made its so popular. It still got the same coupe body style with 2+2 seating and was offered in a cabriolet version. There wasn't any change regarding the rear-wheel drive as well.
An innovation to be highlighted is that now the anti-lock brakes were standard equipment for all models of the vehicle. And in time there were slight transformations of the interior and the exterior as well.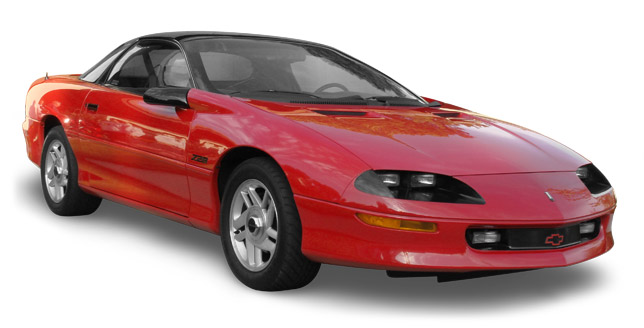 And the year of 2002 was the 35th anniversary of the model: its production in fact didn't suffer any pauses but remained in continuous manufacture.
Nonetheless, due to sales drop, the Camaro was taken out of production.
The year of 2006 is that one when the model regained power and "got back to life". This was the time when two concept models were developed – coupe and convertible, thank to which started the beginning of the fifth generation of Camaros. The new models however went on production three years later – in the spring of 2009, and been sold as 2010 model year vehicles.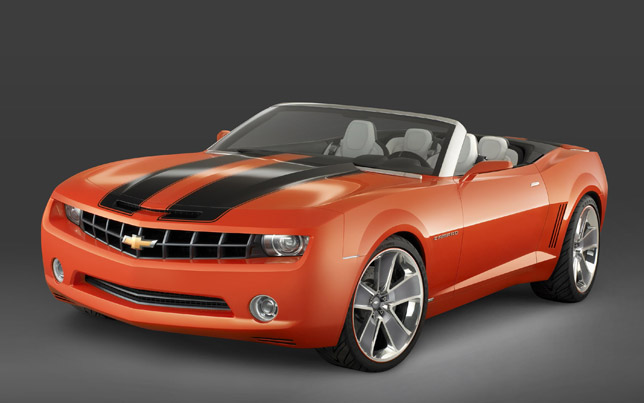 The coupe has been manufactured in LS, LT, and SS trim levels. The first two models are powered by a powerful 3.6 L V6 engine, which produces the exciting 304 hp (227 kW). Here the customers have a choice in terms of gear-shift: it can be either six-speed manual or a six-speed automatic with manual shift. On the other hand the more exuberant SS version is empowered by the 6.2 L LS3 V8 engine. The latter develops the outstanding 426 hp (318 kW) and is mated to a six-speed manual transmission. And if the driver is more keen of automatic gear-shift, than he or she has to be satisfied with the L99 V8 engine, which produces 400 hp (300 kW).
And as I already mentioned in the previous article, 2012 is they year when General Motors marks the 45th anniversary of the Camaro. As a natural consequence, the Chevrolet brand will release a special limited edition model finished in striking Carbon Flash Black with bespoke red and silver anniversary stripes, dark silver 20-inch alloys, a unique 45th anniversary leather interior with red, white and blue stitching and a one-off white-backed instrument panel.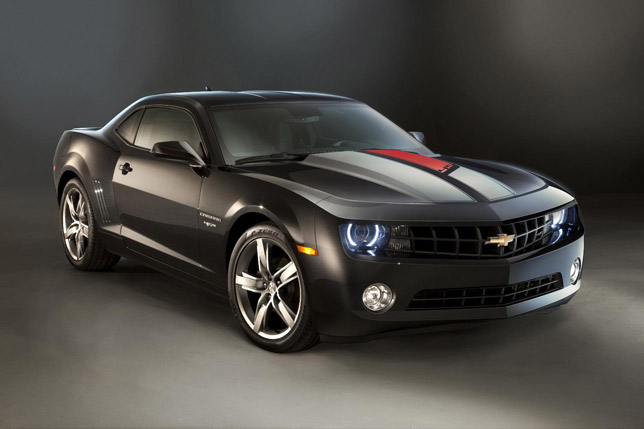 Furthermore, the 2012 Camaro models include all of the characteristics that made the original muscle cars famous. That automatically means that they got great performance and stunning looks. All models come with six-speed manual or a six-speed automatic transmission. The power of the Chevy comes from its 6.2-litre V8 engine, which delivers the 432 hp (317 kW). This makes it possible for the new model to accelerate from 0 to 100 km/h in only 5.2 seconds.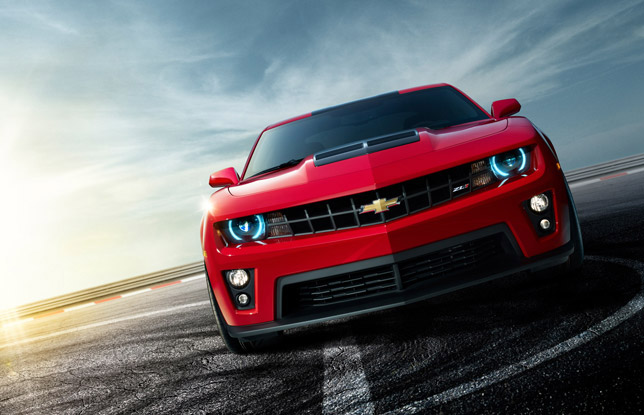 Few, days ago Chevrolet brought Camaro further with the introduction of the 2013 Chevrolet Camaro 1LE. It includes and upgraded package and will be offered as usual in both coupe and convertible versions. The model carries V8 under its bonnet which is mated to a manual transmission as standard. The latter is able to produce the impressive 426 hp (318 kW) at 420 lb-ft of torque (569 Nm).
What is distinct for this model is that it has some new exterior features such as a matte-black hood, a front splitter and a rear spoiler. Regarding the interior, it includes suede micro fiber material, which covers the flat-bottomed steering wheel and the gear shift.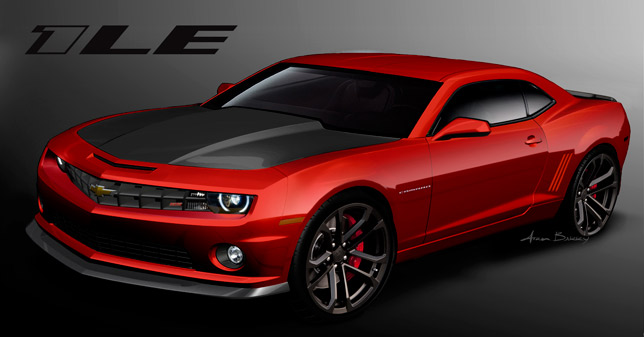 [nggallery id=6350]
And by going through all the history around this emblematic muscle car, I can only say that it will undoubtedly stay in the automotive world for a long time in the future, due to its strong presence and successful history.