Jaguar 12my Range Goes On-Sale Today
The fastest and most efficient production Jaguars ever created go on-sale today.
The new XF 2.2, capable of travelling in excess of 800-miles on a single tank of diesel while emitting just 149 g/km of CO2 is joined by the XKR-S – a car that can accelerate from rest to 100 mph in 8.7 seconds before reaching an electronically limited 186 mph.
Each model forms part of the new Jaguar 12MY programme of upgrades and improvements that sees the XF take on an elegant new look with extensive panel changes including the bonnet, front and rear lights and bumpers, front wings and improvements to the interior switchgear, the navigation system and seats.  The relentless programme of engineering and design enhancements help ensure the XF, named 'Car of the Decade' by owners contributing to the Auto Express Driver Power survey, remains highly competitive in its class.
Similarly, the XK range benefits from a series of changes. A new, larger front grille is framed by a set of slim new headlight units, new horizontal front wing vents, new wheel designs and changes to the rear lights.  For the first time bucket seats will be offered on the car while the interior features new trim finishes to further raise the levels of comfort and refinement.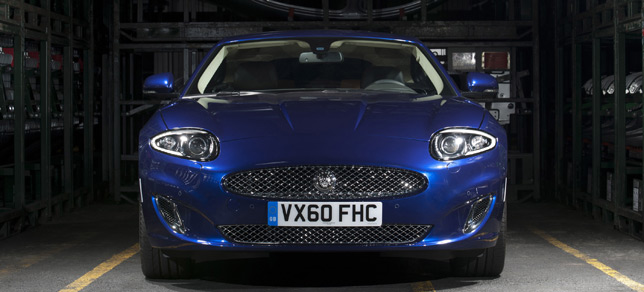 The highly successful XJ also benefits from subtle revisions. A rear-seat comfort option pack has been introduced that includes reclining seats, four-way adjustment for the lower back, a massage feature, footrests and winged headrests.
The new 12MY range is launched at an exciting time for Jaguar as it prepares to unveil the next stage in its bold, product-led strategy for growth at the Frankfurt Motor Show.
2012 XF range at a glance
Diesel engines:
| | | | | | |
| --- | --- | --- | --- | --- | --- |
| Engine | Power (PS) | Torque (lbs ft) | 0-62 / max speed (mph) | Comb economy (mpg) /CO2 (g/km) | Price (RRP, OTR) |
| 2,179 cc, 16-valve, 4cyl, turbocharged | 190 | 332 | 8.5 / 142 | 52.3 / 149 | £30,950 |
| 2,993 cc, 24-valve, V6, twin-turbocharged | 240 | 369 | 7.1 / 149 | 44.8 / 169 | £36,950 |
| 2,993 cc, 24-valve, V6, twin-turbocharged | 275 | 442 | 6.4 / 155 | 44.8 / 169 | £42,950 |
Petrol engines:
| | | | | | |
| --- | --- | --- | --- | --- | --- |
| Engine | Power (PS) | Torque (lbs ft) | 0-62 / max speed (mph) | Comb economy (mpg)/ CO2 (g/km) | Price (RRP, OTR) |
| 5,000 cc, 32-valve, V8 | 385 | 380 | 5.7 / 155 | 25.4 / 264 | £49,950 |
| 5,000 cc, 32-valve, V8, supercharged | 510 | 461 | 4.9 / 155 | 22.5 / 292 | £65,350 |
2012 XK range at a glance
Coupé:
| | | | | | |
| --- | --- | --- | --- | --- | --- |
| Engine | Power (PS) | Torque (lbs ft) | 0-62 / max speed (mph) | Comb economy (mpg) /CO2 (g/km) | Price (RRP, OTR) |
| 5,000 cc, 32-valve, V8 | 385 | 380 | 5.5 / 155 | 25.2 / 264 | £65,000 |
| 5,000 cc, 32-valve, V8, Supercharged | 510 | 461 | 4.8 / 155 | 23.0 / 292 | £78,550 |
| 5,000 cc, 32-valve, V8, Supercharged XKR-S | 550 | 502 | 4.4 / 186 | 23.0 / 292 | £97,000 |
Convertible:
| | | | | | |
| --- | --- | --- | --- | --- | --- |
| Engine | Power (PS) | Torque (lbs ft) | 0-62 / max speed (mph) | Comb economy (mpg)/CO2 (g/km) | Price (RRP, OTR) |
| 5,000 cc, 32-valve, V8 | 385 | 380 | 5.6 / 155 | 25.2 / 264 | £71,000 |
| 5,000 cc, 32-valve, V8, Supercharged | 510 | 461 | 4.8 / 155 | 23.0 / 292 | £84,550 |
Source: Jaguar