Jaguar Project 7 Concept Car To Debut At Goodwood [VIDEO]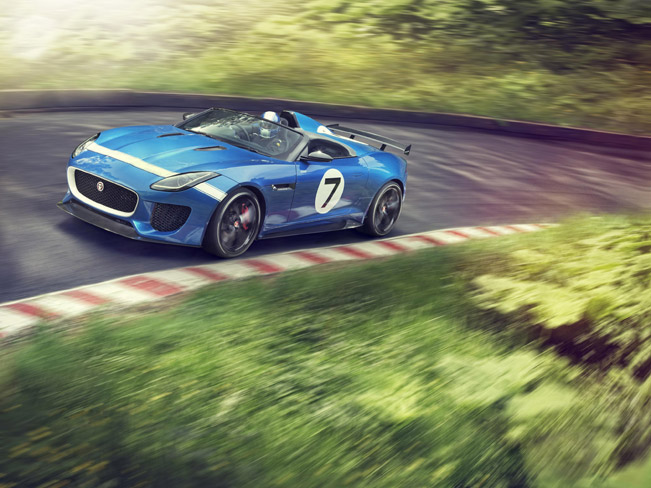 Jaguar Project 7 Concept Car is going to debut at the 2013 Goodwood Festival of Speed this weekend on 12th of July. This concept of Jaguar's is based on the 2014 Jaguar F-TYPE. The name of the car – Projcet 7 comes to acknowledge the seven wins of the brand at the Le Mans achieved between 1951-1990. In addition its blue paintwork is reminiscent of the victorious Jaguar D-type cars of 1956/1957.
As a matter of fact, the concept is not a static one, but instead is a fully-functional, high-performance sports car. It has inherited the F-TYPE's rigid all-aluminum architecture, and additionally it is equipped with 550 hp (405 kW) supercharged 5-liter Jaguar V8 engine.
The power is transferred to the rear wheels via an eight-speed ZF transmission with "Quickshift" technology, and an active electronically controlled limited slip differential. Furthermore, the new racing concept also includes a free-flow exhaust system with a ceramic finish, 10mm lower ride height and a custom-calibrated spring/damper tune.
In the design of the Projct 7 it is visible that the engineers and designers tried to stay as close as possible to the F-TYPE's two key design 'heartlines'. The biggest change however is the new D-Type-inspired rear fairing section which embodies a rollover hoop and swoops down from behind the driver.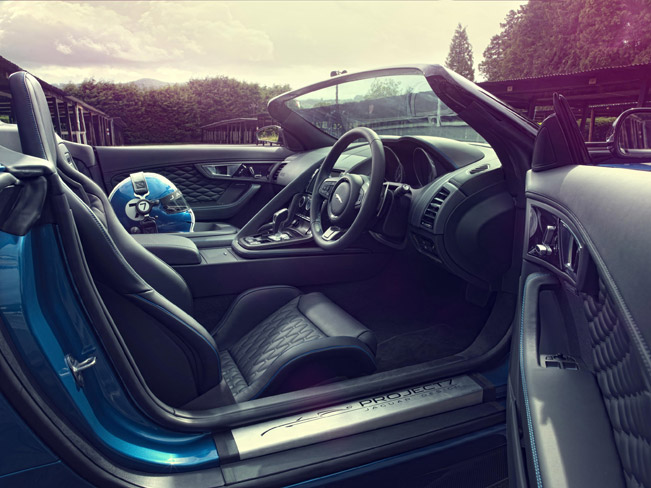 In order to make the car more aerodynamically enhanced, there were made some modifications such as carbon-fiber front air splitter, side skirts, large rear diffuser and a fixed rear spoiler with a 14-degree angle of attack. What are also made of carbon fiber are the side louvers and bonnet vents. The carbon elements and the aluminum mirrors draw inspiration from those on Jaguar's C-X16 sports car concept, which inspired the F-TYPE.
Moreover, in this project, the windshield has been lowered, and at the same time a new front fascia design includes revised air intakes and headlights with gloss black surrounds. On the road, the car will run on 20-inch forged-alloy wheels with carbon-fiber inserts.
Going inside, the interior includes a composite bucket seat for the driver, which is 1.2 inches lower than the stock seat, and is gripped by a four-point racing harness. The passenger seat is replaced by a custom fabricated helmet holder, which carries a custom-designed Project 7 helmet in matching blue paint and graphics.
The seat and the inner part of the doors are made of quilted racing-style diamond pattern. There are also visible the carbon-fiber inserts on the console and shift lever, and the steering wheel is equipped with machined aluminum paddles.
Jaguar Project 7 Concept Car Technical Specifications
| | |
| --- | --- |
| ENGINE & TRANSMISSION | |
| Engine Capacity (cc) | 5000 |
| Cylinders | 8 |
| Valves per cylinder | 4 |
| Compression ratio | 9.5:1 |
| Bore/stroke (mm) | 92.5/93.0 |
| Bore/stroke (inches) | 3.64/3.66 |
| Transmission | Eight-speed ZF transmission with 'Quickshift' technology |
| PERFORMANCE | |
| 0-60mph (sec) | 4.1 |
| 50-75mph (sec) | 2.4 |
| Top speed | 186 MPH (electronically limited) |
| Power ([email protected]) | [email protected] |
| Torque (lb [email protected]) | [email protected] |
| Wheels | 20-inch "Blade" forged-alloy |
| Tires | Pirelli P Zero 255/30/20 (front) / 295/30/20 (rear) |
Jaguar has won Le Mans seven times:
| | | |
| --- | --- | --- |
| 1951 | C-Type | Peter Walker, Peter Whitehead |
| 1953 | C-Type | Tony Rolt, Duncan Hamilton |
| 1955 | D-Type | Mike Hawthorn, Ivor Bueb |
| 1956 | D-Type | Ron Flockhart, Ninian Sanderson |
| 1957 | D-Type | Ron Flockhart, Ivor Bueb |
| 1988 | XJR-9LM | Jan Lammers, Johnny Dumfries, Andy Wallace |
| 1990 | XJR-12 | John Nielsen, Price Cobb, Martin Brundle |
Video Source: YouTube
Source: Jaguar