JE Design Beetle
The newest VW Beetle is funky, hip and image laden. So one might think there is no real need to further personalize. Accessory house JE Design however, thing they can push the boundaries of individualism even more.
The Beetle's chassis for example has underwent JE specialty tuning by replacing the springs with ones that are more stiff so that body roll is reduced to minimum. Despite being shorter (around 30-35 millimeters) than the standard springs, no shock absorber change is needed, The JE Design spring kit is available for 219 euros ($289) in Germany.
8 x 19 inch, exclusive black "Tornado" Volkswagen, multi-spoke alloys can be provided by JE Design. They can be fitted with the standard 235/40 R19 or to do the honor of those 16-spoke wheels one can fit them with even lower profile tires (235/35 R19). Four finishes are available for the rims: black mat spokes and a mat silver rim flange, graphite mat silver spokes with a mat silver rim flange, shadow silver and black shiny spokes with a shiny silver rim flange. The complete JE Design wheel set has a starting price of 2,810 euros ($3,702).
Other distinctive features include a sporty apron insert (476 euros/$627) that comes with a diffuser and a centered air duct. Another thing is the steel muffler developed for the VW Beetle, with a round 90 millimeter large twin tailpipe as a four pipe design and is compatible with all gasoline and diesel motors. That will send you back further 952 euros ($1,254). Needless to say that all JE Design components come with TÜV certificates.
For the VW Beetle Sport which already has 200HP 2.0 Golf GTI TFSI engine can also be tweaked by JE Design with an engine management module that kicks it up a notch to 240 HP while torque peaks at 310 newton meters. The time for a zero to sixty sprint stands at 6.9 seconds and top speed reaches 230 km/h. That privilege costs another 1,280 euros ($1,686). After the upgrade emission status remains the same so no road legal issues should follow. All is again TÜV certified.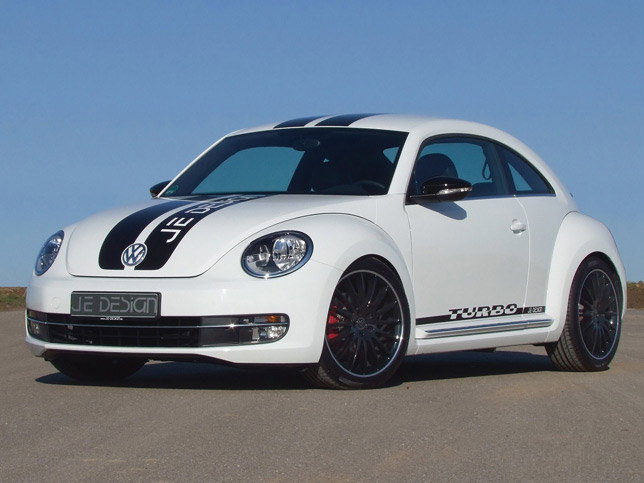 Source: JE Design