Fourth Generation Jeep Cherokee Debuts At Geneva This Year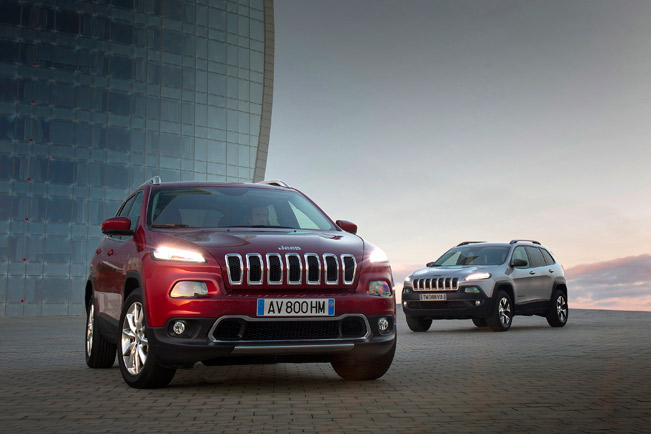 The new Jeep Cherokee is upon us. Be on the look out for it if you happen to attend the 84th Geneva International Motor Show. The fourth generation of the mid-sized SUV is sophisticated, off-roadish, torquey and downright ugly/pretty (it's a hate-it-or-love-it thing so we will refrain from judgement).Coming to Europe in three trim levels – Longtitude, Limited, and Traillhawk – the new Cherokee is supposed to boldly introduce a new face of the Jeep brand.... while remaining "true to the brand". Every car manufacturer is quick to underline that no matter how outlandsih the final product turns out to be.
Well, there is some truth to that. One of the available engines (only with the Limited and Trailhawk editions) bares the legacy-laden Pentastar V6 label. Although there is quite a lot of power to go around - 272 hp and 315 Nm – the volume has been downsized from 3.6- to 3.2-liters. It's not only some 30 percent more economical than before but is also more refined with less noise and vibrations.
But that's all top-of-the-line talk. What about the people that can do without all the six cylnders and the foot-long gas bill? How about a 2.0-liter Multijet II turbo diesel engine mated to a 9-speed automatic gearbox? Yes, 9-speed. But we'll get to that later. Fiat's Multijet (common rail) tech can shoot up fuel into the cylinders with a pressure value of up to 1,600 bar thus ensuring smoothness and frugality throughout the cycle. All the while, a variable geometry turbocharger and a double overhead camshaft controlling 16 valves in total get the Cherokee's power rated at 170 hp and 350 Nm (the latter peaking at just 1,500 rpm).
Then there's the transmission. Are they going for a world record here? Not only 9-speeds but also 40 individual automatic shift maps corresponding to different conditions. The involved software has to consider, among other things, variables such as the engine torque gradients, kick-down events, longitudinal and lateral acceleration and grade changes just so that you and I be always on the right gear.
There is a 140 hp version of the same diesel engine available (mated to a six-speed manual) and another gasoline 2.4-liter engine with 177 hp and 229 Nm at its disposal. The latter of the two, however, will be only available in Russia and the Middle East.
After choosing the right power plant for you, you'll have to spend another month deciding which 4x4 system to go with. There's the Jeep Active Drive I (Longitude and Limited models) – a single power transfer unit that is still fully automatic and works its magic in the background. It features a fully-variable wet clutch, housed in the rear drive module, which works in unison with the Cherokee's ESC system for optimum traction on almost any surface. The Jeep Active Drive II is a more advanced version of the aforementioned (Limited only). It has a two-speed power transfer unit with torque management and a low-range mode (4-Low). It Locks the front and rear drive shafts for low speed power or towing. Essentially, the greater the gear reduction, the better the climbing capabilities of the vehicle. Finally there's the standard on all Trailhawk Jeep Active Drive Lock package. It includes the Active Drive II system plus a locking differential. As such, the new Cherokee becomes as off-road capable as it will ever be.
On a side note, all 4x4 options feature a standard user-operated Selec-Terrain traction control system that controls way too many of the Cherokee's systems: drivetrain control module, electronic brake controller, ESC, transmission controller, powertrain controller and Selec-Speed Control (Hill-ascent and Hill-descent Control). Also, all are not necessarily 4x4 all the time. They use a rear-axle disconnect module that reduces energy loss when AWD is not required.
Finally, it needs to be mentioned that the new Cherokee's structure implements a high-resistance steel body (65%). Combine that rigid structure with 70+ safety features and you've got yourself a very safe environment for both everyday situations and extreme circumstances.
Good job, Jeep!
Source: Jeep