Jeep Wrangler "Dragon" Design Concept Revealed
Since the 2012 Beijing International Automotive Exhibition is already in motion, we better start off with something symbolic. That's where the Jeep Wrangler "Dragon" design concept comes in. It's based on the standard, Chinese spec Jeep Wrangler Unlimited Rubicon, finished in black and garnished with bronze/gold motives which are strongly associated with the Chinese dragon.
The gold/bronze details play a center role in the whole design thing (front grille slats, headlamp surrounds, the engine cover etc) but by know, you must have noticed the dragon decal that starts on the hood and runs down the driver's side of the cabin. "Supplementary" dragons can also be found on the underside of the hood where a carbon-fiber insulator is mounted. Then there's the gloss-black spare tire cover which also glances you with a pair of dragon eyes. As round up features for the outside, the Jeep boasts a Mopar fuel-filler cap and an aftermarket LED lighting package that includes the headlamps, fog lamps, turn signals and taillights.
This particular Wrangler sits on 18-inch five-spoke alloy wheels which are also black and have the same bronze/gold outer edge finish. They roll around humongous 35-inch off-road tires which are there to defend the dragon's reputation – control over water, rain and winds in their severest form.
Inside, the seats are all black leather with gold/bronze piping and stitching. A laser etched dragon pattern adorns the face of the headrests. Leather, resembling the scales of a dragon, covers the outside edges of the seats and front center arm rest. The instrument panel bezels are in piano black while the steering wheel's spokes have a bronze/gold accent. That is also true for the instrument cluster, passenger-side door dashboard grab handle and door handles. Finishing the interior modifications are the dragon tags on the front and rear floor mats.
At the heart of the dragon sits a Chrysler 3.6-liter Pentastar V6 engine. That means 284 bhp and 347 Nm of mythical fury. Although down on the displacement (compared to the previous 3.8-liter engine), this one has over 40 percent more horsepower and 10 percent more torque. Also, mated to an automatic transmission normally found in the Jeep Grand Cherokee, the Wrangler is more economical as well.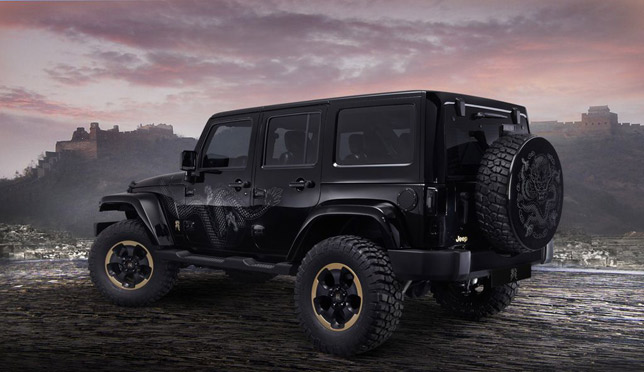 Source: Jeep