Simple but Charming: Meet JMS BMW 5-Series Facelift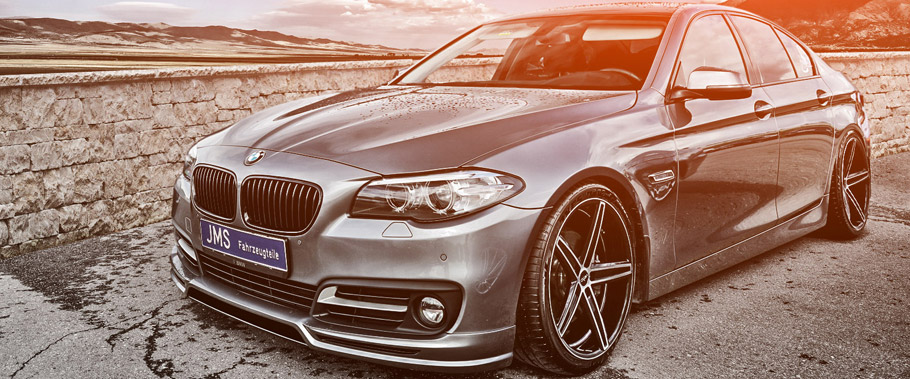 JMS Fahrzeugteile BMW 5-Series Facelift is an example how sometimes tiny changes can make a "big deal". Not everybody, including me, like pompous tunings or modifications. In fact, if there are people who think like I do, then they will find that some conversions are even equal to unnecessary spent money. But it depends on the taste and of course, we shouldn't generalize all tunings out there.
So, this 5-Series have received new stance just by three simple steps. Here they are:
STEP 1
JMS tuning specialists have used the meaning lowering very well. This BMW features Racelook Exclusiv Line front spoiler lip with integrated splitter not only for an addition of sportier touch, but also for 28 mm lowering. The spoiler lip also makes the perfect visual transition to the standard side sills.
SEE ALSO: Lost the "Spark" For Your BMW? OK-CHIPTUNING Might Help You
STEP 2

Changing the handling and road-holding was achieved with the help of KW Variant 3 coil-over suspension. This has resulted in 55 mm lowering at the front and 45 mm lowering at the rear, contributing to the more purposeful and aggressive stance of this 5-Series.
STEP 3
The last step that JMS tuners did is to replace the standard alloys with Oxigin 18 Concave Wheel in 9.0x20 and 10.5x20-inch sizes at the front and rear, shod with 245/35R20 and 275/30R20 tires.
Accessories such as the JMS Tuning accelerator "Speedpedal", performance upgrades and sport exhaust systems care also an option here as they come with a special JMS program. What do you think about this project? Does these changes seem enough to you?
Source: JMS Fahrzeugteile