John Moyer Gives The 2012 RS a Go
Rock stars and fast cars have always went hand in hand or should I say muscle to muscle.
Recently John Moyer, the bassist of the widely popular heavy metal band Disturbed, has had the pleasure to test out the pumped Mustang 2012 ROUSH Stage 3 and now he is impressed. Very impressed. What follows ahead is truly akin to a love story.
It was on an business project in Los Angeles where Moyer met with ROUSH Performance marketing director Jay Velthoven and sales manager Robert Barben. They were supposed to make a photo shoot with the rocker and two lush Mustangs finely tuned by the hardcore company. Even at that point, Moyer was impressed by the amazingly sporty looks including the green racing stripes on the black one and the red motives on the white one. He was also impressed how subtle ROUSH had been when placing their logo on the cars. No doubt though that these beasts were far from standard. The experience intensified as the photo shoot took place at Mulholland drive for a few scenic pictures. Moyer now had the chance to hear them rumble and to contrast that drama with their smooth ride.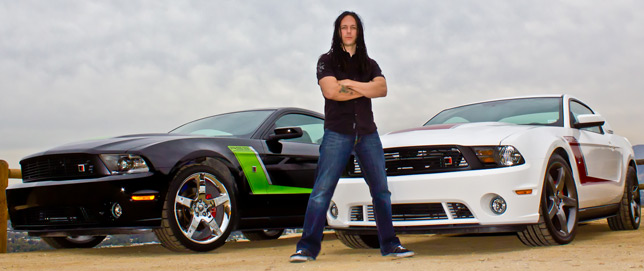 At the end of the day Jay and Robert very kindly offered Moyer to keep the white one for the night and flung him the keys. Needles to say he accepted. Now this was the real deal. He was in charge of a 540 horsepower beast which was navigated by what he describes as sharp steering and reasonably responsive brakes. The suspension felt rather sporty and yet not hard enough to break your back. He than proceeded on testing the feel of the acceleration starting from first gear, going trough second and banging into third as his body experienced the incoming G forces.
On the Pacific Coast Highway, with barely any traffic at all, he was literally sent into oblivion with that car. The night slipped away, friends and family were frantic about his whereabouts. By the end of his trip he had done 150 miles on the clock.
Reluctantly he handed over the keys in the morning only to find that he was allowed to keep it for the next day as well.
Picture yourselves in his position. What do you do?
If you ask him: "When someone hands you the keys to a 540 horsepower Roush Mustang and says "Have fun!" don't ask questions, don't even blink, just get in the car and go."
I could not have said it better myself
Source: ROUSH Performance