2012 ROUSH Stage 3 Mustang
The tuning company Roush has introduced a new Stage 3 performance package for the latest Ford Mustang GT. The tuner has also installed a brutal styling package.
­The exterior features new front fascia, a revised rear valance, and a trunk-mounted lip spoiler. There are also a lowered sport-tuned suspension for better stance and performance on a race track, a high-performance braking system and 18" alloy wheels fitted with Cooper 2XS tires.
"In addition to the powerful ROUSH power train and tuned suspension, we're really excited about the new graphics and design options," commented Gary Jurick, VP/GM of ROUSH Performance.
"The 'Redefined' graphics introduce new metallic colors utilizing automotive paint-grade materials. The result is a breathtakingly deep tone to the RS3's graphics. We're now providing our ROUSH consumers a very broad spectrum of graphics and color combinations to consider for their 2012 RS3 Mustang.", Mr. Jurick added.
2012 ROUSH Stage 3 Mustang is powered by a 5.0 liter supercharged V8 with 548PS (403 kW) and 630Nm (465 lb-ft) of torque. The result is thanks to a number of upgrades and this means an increase of 130PS (94 kW) and 102Nm (75 lb-ft). The car comes with 6-speed manual transmission only.
2012 ROUSH Stage 3 Mustang is priced at $59 945. However, you can check the option list below.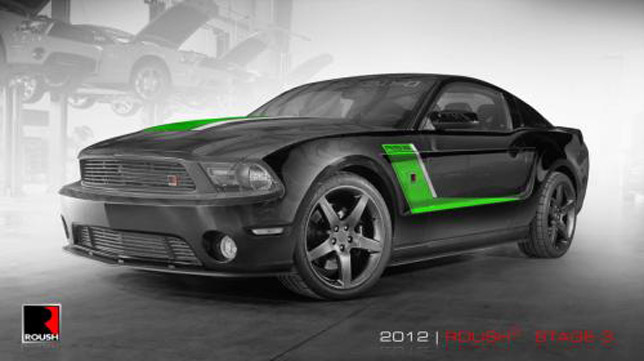 Core Components - $16,800 + S&H
ROUSHcharged 5.0L Powertrain System (540 hp / 465 ft-lb)
ROUSH Square Tip Performance Exhaust - Dealer Installed (Post Title)
ROUSH Front Fascia with Driving Lamps
ROUSH Front Fascia Blackout Graphic
ROUSH Front Chin Splitter
ROUSH Billet Upper Grille with Stage 3 R; Badge
Square Stage 3 R Fender Badges
ROUSH Side Rocker Splitters
ROUSH Rear Valance
ROUSH Rear Decklid Spoiler
ROUSH Rear Blackout Panel with Jack Roush Signature
ROUSH Stage 3 R Faux Gas Cap Badge
ROUSH Stage 3 Decklid Badge
ROUSH Stage 3 Graphics Package
ROUSH Front Windshield Banner
ROUSH Suspension System
ROUSH 18-Inch Chrome Wheels with High Performance Cooper 2XS Tires
ROUSH Embroidered Floor Mats
ROUSH White Face Gauges
ROUSH Center Console Badge/Button
ROUSH Stage 3 Interior Medallion
ROUSH Stage 3 Serialized Engine Bay Plaque
ROUSH Engine Bay Plaque with Chassis Builder
ROUSH Supplement Owners Guide
Optional Components
ROUSH Vent Gauge Pod with Boost Gauge
- $435
ROUSH Illuminated Door Sill Plates
- $220
ROUSH Billet Performance Pedals
- $200
ROUSH Stage 3 Leather Seating
- $1,725
ROUSH 6-Speed Shifter Ball (White or Black)
- $95
ROUSH Billet Aluminum 6-Speed Shifter Knob with Grips
- $110
ROUSH Convertible Light Bar
- $910
ROUSH Trunk Mounted Tool Kit
- $395
ROUSH Rear Quarter Window Louvers
- $370
ROUSH Rear Quarter Window Louver Graphics (Matte Black)
- $70
ROUSH Lower Billet Grille
- $250
ROUSH Engine Coil Covers (Red)
- $285
ROUSH 18-Inch Chrome Wheels with Ultra High Performance Cooper RS3 Tires (tire upgrade ONLY)
- $304
ROUSH 20-Inch Wheels (Chrome or Hyper Black) with Ultra High Performance Cooper RS3 Tires
- $1,115
ROUSH Locking Lug Nuts
- $60
ROUSH Sport Brake Package (Red)
- $1,450
ROUSH Performance Brake Package
- $2,877
ROUSH Competition Brake Package
- $3,687
ROUSH Competition Suspension System
- $1,875
Source: Roush