2013 ROUSH Staged Ford Mustang
Update on ROUSH's Staged Ford Mustangs. And by "Staged" I don't mean fake. No, it's 2012 so the time is right to roll out the 2013 MY product – more style, more aggression and, it goes without saying, more muscle.
Three Stages are available with number three being sort of the full program. Stage 1 works on the visuals and Stage 2 deals with the handling bits. With a Stage 3, the Mustang's 5.0L-4v Coyote powertrain comes along with a supercharger. That means a power output of 565 horsepower and 505 lb-ft of torque. People move planets with that sort of power. It's not just any supercharger but ROUSH's own R2300 unit that features Eaton's TVS (Twin Vortices Series) patented technology. It's thermally more efficient produces higher volumetric capacity and helps up the RPMs of the turbine.
Evidently, the overhaul does not consist solely of protein shakes. The handling has been improved as well thanks to a larger, stiffer front stabilizer bar (counters body roll) a unique ROUSH designed anti-wheel hop kit, twin-tube shocks, increased rate springs as well as upgraded bushings and jounce bumpers. The company engineers have spent countless nights working on the perfect calibration of all of that so that the final product can start, stop and corner the way a gearhead would want it to. The aluminum, five spoke, chrome ROUSH wheels are also considered as a handling improvement as they measure up to 18x10. (20-inch ones are an option)
Even at the very first stage, Stage 1, the Mustangs get a 6th generation ROUSH Aerobody called the R6. It consists of an upper and lower grille, corner fascia aero-pockets with driving lamps and front a chin splitter. The ROUSH hood scoop, rocker panel and rear fascia side splitters, the three-piece rear decklid spoiler and the new ROUSH rear aero-valance featuring race-inspired diffusers are also parts of it. As a finishing touch, someone at ROUSH had the nice idea of planting a set of newly designed, integrated dual chambered, chrome exhaust tips.
Inside, the Stage 3 comes with a custom dial cluster, ROUSH embroidered floor mats, a ROUSH center console button and a Stage 3 dash medallion. Other than that, one can further the customization process with some optional packages. Fancy a suede jungle inside your personal ROUSH Mustang? Well, great! They have just that in stock – suede inserts in the leather seats, suede door panels and a suede shift boot and steering wheel.
The ROUSH program for the Mustang is available for both convertibles and coupes. It doesn't matter of its a stick or an automatic and all is, most definitely, street legal. Whichever choice you make, you will get a 3-year/36,000-mile bumper-to-bumper warranty. This April, be on the lookout for these ROUSH Mustangs in the local dealrs.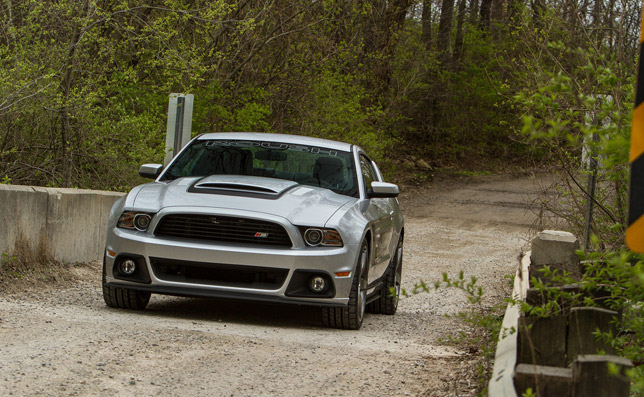 Source: ROUSH