2012 Kahn Ferrari 458 Italia is aerodynamically unique
2012 Kahn Ferrari 458 Italia is covered by this splendid red aluminum-alloy couture, thus grabbing the attention of everyone effortlessly. What makes this Ferrari unique is that it is by heart a true Italian vehicle which however received a truly British inspiring blueprint.
Of course, no one else but the tuners from A. Kahn Design were those to take the challenge and redesign this sumptuous car. Now, with the enhancements by Kahn, the 458 Italia is more luxurious than ever!
The transformations done on this vehicle are: front and rear bumper sections in matt pearl grey, rear diffuser, side skirts and roof in matt pearl grey, ceramic brakes and yellow brake calipers. They make even more aerodynamically unique this Ferrari.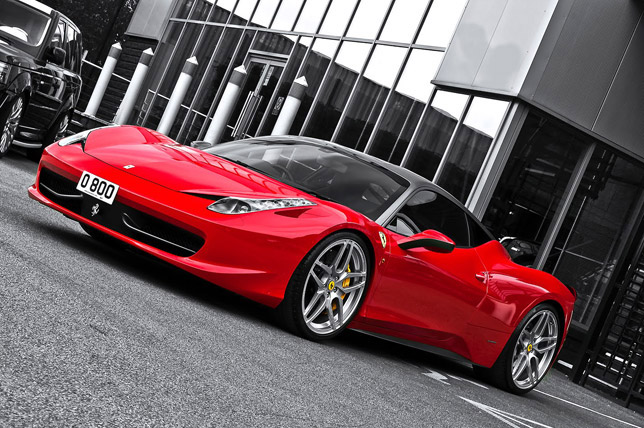 It wouldn't be an A. Kahn Design vehicle if there weren't a bespoke touch in it. The whole coupe is wrapped in black Daytona leather, including the electric sports seats.
2012 Kahn Ferrari 458 Italia runs perfectly on state-of-the art forged 9×21" front and 12×22 rear alloy wheels. They were finished in matt pearl grey, which color fits all original centre caps. These wheels bring even more elegance to the 458 Italia with their simple clean lines, soft organic surfaces on the edge of the spoke and a purposeful mechanical centre.
However, no change has been made in terms of power. The supercar stays with its original 4.5 liter V8 engine. The latter is able to deliver 578 hp (425 kW) and 540 Nm (399 lb-ft) at 6000 rpm. This power gives the 458 Italia the capability to accelerate from 0 to 100 km/h in just 3.4 seconds and to have a top speed of over 325 km/h.
Source: A. Kahn Design