The Super Bug or How KBR Motorsport and SEK-Carhifi Made the Most Inspiring Volkswagen Beetle

KBR Motorsport and SEK-Carhifi has gathered together to create the most inspiring Volkswagen Beetle we have seen so far. It is not coincidental that they also call it the 'Super Bug'. A lot of modifications have been happening here and we can't wait to tell you all about them. What you have to know in the beginning is that the KBR Motorsport took care of the classic tuning of the Beetle, while the SEK Carhifi team installed a custom high-end sound system using Ground Zero and Pioneer components.
KBR Motorsport's Classic Tuning
The first thing that the experts had to do was to install big round wheel arches with huge wheels to fill them out. Therefore they chose 9.5J x 20-inch Oxigin 14 Oxrock multi-spoke alloy wheels in black finish with white foil, and then they have shod them with 235/30ZR20 Hankook Ventus S1 Evo tyres.
SEE ALSO: KBR Motorsport and the Fierce BMW M3 Clubsport
Furthermore, the Beetle also received better red front brakes and four-pot alloy brake calipers that clamp vented discs with surface grooves. The rear brakes are standard. They have been only painted in red to match the front ones. H&R coil-over suspension kit lowered the car further.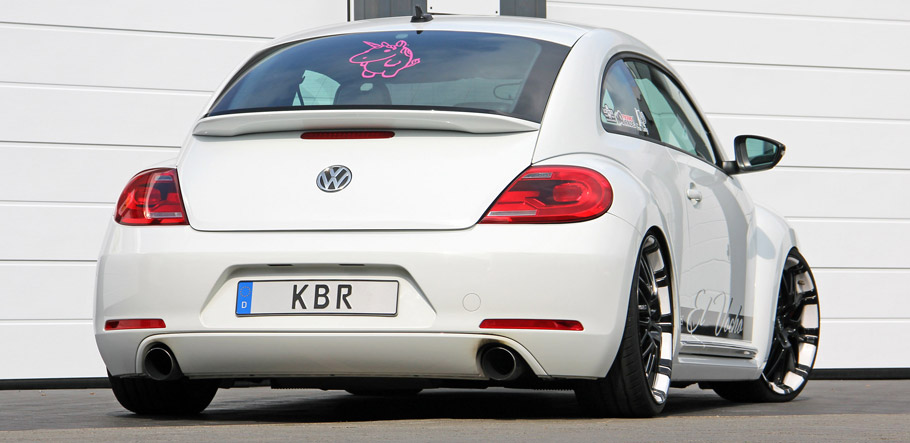 Under the hood of the VW, sits the 2.0-liter turbocharged four-cylinder engine. It was fitted with a turbo-back three-inch diameter stainless steel sports exhaust to reduce back-pressure, before remapping the ECU. Thanks to the engine dyno, it now shows 265 hp (195 kW) and 415 Nm (306 lb-ft) of torque.
KBR Motorsport did also another thing, this time regarding the interior. They have replaced the factory front seats with figure-hugging Recaro Sportster CS sports seats whose backs are color-coded white to match the car's bodywork and interior trim panels.
SEK Carhifi and the Custom Audio Installation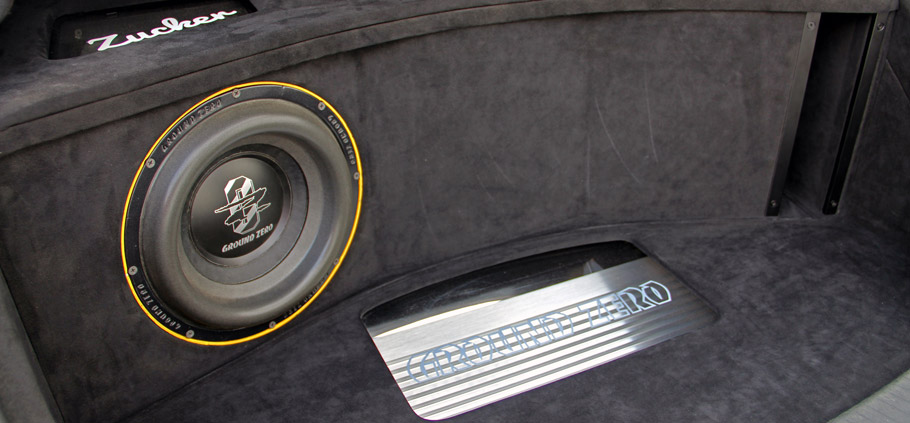 The sound system delivered and installed by the experts at SEK Carhifi is more than spectacular. The 1,700 W sound system is actually Pioneer's dashboard mounted flagship AVIC-F77DAB Navigation/AV head-unit, which feeds its audio signals to the three power amplifiers via a Ground Zero GZCS 6-8DSP eight-channel DSP unit housed in the passenger footwell.
The 6.5-inch mid-bass units replace the OE speakers in the door panels. Alubutyl dampening has been applied to the latter in order to eliminate any spurious resonances. Moreover, opening the rear hatch reveals that the luggage compartment which now houses 10-inch diameter Ground Zero GZPW 10SPL subwoofer. Its power comes from a single 600 W GNZA 1.2250XII monoblock amplifier mounted under the boot floor.
And this is how you create a Super Bug! Want to improve anything?
Source: KBR Motorsport