Kia Concept Called GT4 Stinger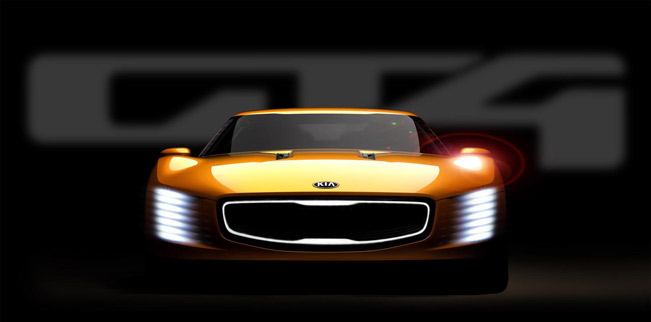 The Kia info-trickling continues. We now know that the super-awesome concept – set to premiere at the North American International Auto Show in Detroit in less then 15 days – is called the GT4 Stinger. A rather American sounding name.
That's because it is largely American. After all, the designs were drawn up by the team in Kia's American Design Center in California. What you see here on this picture is the brand's signature "Tiger Nose". Introduced first with the Kia Kee concept back in 2007, that grille has been with us ever since, and while we can't really see a tiger in there, we admire their imaginative approach. Those whiskers(?) of light are flanked by vertical LED headlamps. There are vents in-between to channel air to a pair of 20-inch wheels, so that's new information, right?
Oh, and behind that grille, there lays a 2.0-liter engine that hurls 315 hp towards the back wheels.
More info before the official reveal should become available so stay tuned.
Source: Kia