Kia GT4 Stinger Concept Out Of The Shadows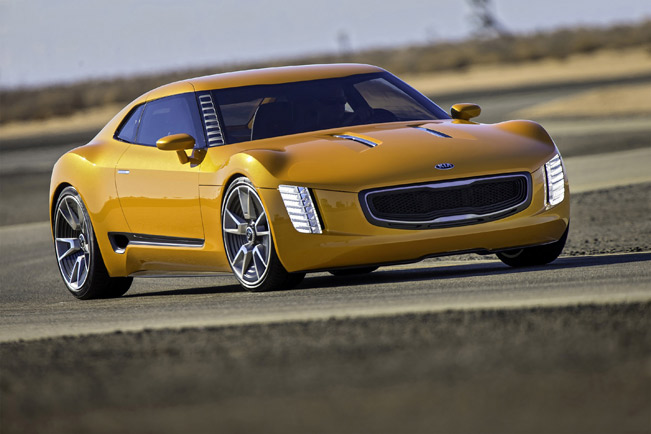 Pure, unadulterated fun is the idea behind the Kia GT4 Stinger Concept which has now gone public in Detroit at the North American Auto Show. An engine at the front, rear-wheel drive, 2+2 seating and an acceptable price. Could eventually Kia be taking on the BRZ and the GT 86? Let's hope so.
What we do know for sure, however that the GT4 looks amazing. Yeah, it's a concept and that's what it's supposed to look like, but this one does the job particularly good. It's 169/7 inches long, 74.4 inches wide and just 49.2 inches tall. It sits close to the ground on 275/35R20 Pirelli Pzero performance tires (235 at the front). Consider us more than impressed with the creeping LED lights, the see-through A-pillars, the silky-smooth sculptured body, and the overly simplified back end. It really is a masterfully designed thing. Props to you, Kia Design Center America (KDCA).
Enough admiration, though. It's time to get serious. Like under-the-hood kind of serious. There's a real engine hiding in there – it's Kia's acclaimed T-GDI 2.0-liter unit tuned to churn out 315 hp. All of that power is sent to the rear wheels via a close-ratio six-speed manual transmission. The stopping power is courtesy to the Brembo Gran Turismo 15-inch crossdrilled rotors and four-piston calipers.
The GT4 should be an adrenaline blast in the corners as well, considering the near perfect (52:48) weight distribution, the quick-ratio steering rack and its relatively low unsprung mass which stands at 2,874 pounds.
Small wonder then, that you don't even get a stereo, nor carpets. Door handles? Nah, try pull straps for a size. "It's a totally selfish design. The design team at KCDA is full of gearheadsand enthusiasts, and the GT4 Stinger is the perfect car for that kind of crowd." comments chief designer, Tom Kearns
Source: Kia