Kicherer Mercedes-Benz ML IMPACT
Kicherer has announced their tuning program for the new Mercedes-Benz ML turning it into a real high-performance luxury SUV. The name of the project is IMPACT.
The exterior comes with LED daytime running lights, wheel arch enlargements for the front and rear axles, side skirts, attachments to the doors and trunk lids as well as a rear fender skirt with integrated rear diffuser and trapezoidal pipe-end covers in sportive four-pipe looks, a complete front fender skirt also belongs to the IMPACT's aerodynamic assembly set. The assembly set is complemented by numerous perfectly positioned applications made of visible carbon fiber.
The SUV rolls enormous 22" KICHERER RS2 Aluminum wheels fitted with low-profile performance tires. The suspension uses an electronic chassis adjustment system by about 25 mm.
The interior boasts a choice of Nappa leather, Alcantara and Carbon in the entire interior for an exclusive experience.
The KICHERER ML "IMPACT" aerodynamic kit will be available for all ML types 166 of the youngest generation. Initial market appearance is planned for the summer of 2012.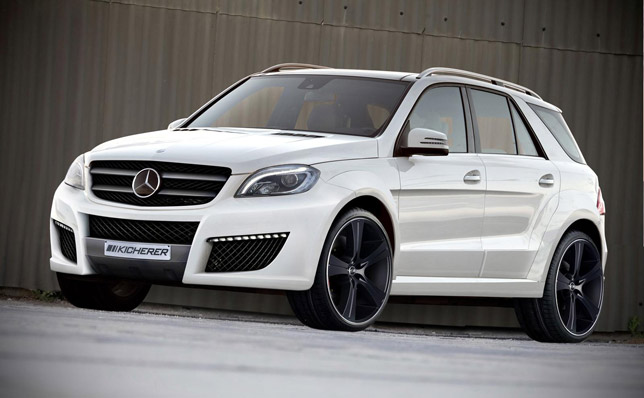 Source: Kicherer