Koenigsegg One:1 - Officially Unveiled - 1,341HP and 1,371 Nm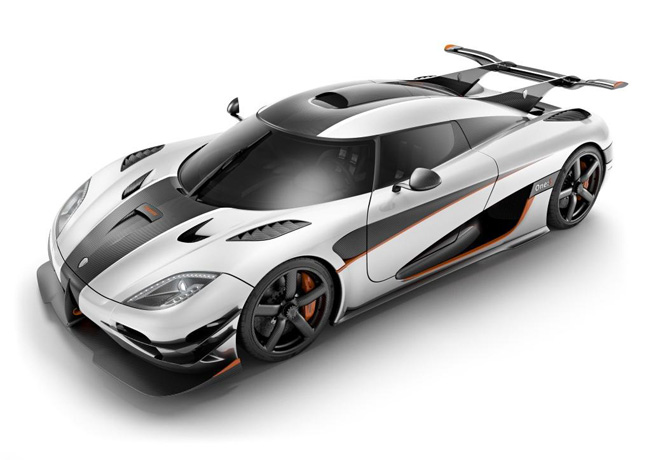 Koenigsegg has finally revealed full details about their mega car – One:1. It is set to become the world's fastest production car and according to us – it will.
The extremely powerful vehicle has a 5.0 liter twin-turbocharged V8 aluminum engine - 1,341 HP (986 kW) and 1,371 Nm (1,011 lb-ft) at 6,000RPM. The curb weight is exactly 1,341 kg (2,956 lbs), it has a power-to-weight ratio of 1:1.
The power is put on the road through a dual-clutch 7-speed gearbox sending it to an electronic differential at the rear wheels. 0-400 km/h in 20.0 seconds. The engine can run not only on regular gasoline, but also with E85 biofuel as well as race fuel.
Other highlights include carbon ceramic braking system from Agera R, updated rear triplex suspension with active shock absorbers and carbon bevel springs and a set of huge wheels fitted with high performance tires.
The braking system features 397mm front power-assisted ventilated ceramic discs with 6-piston calipers at the front and 380mm with 4-piston calipers at the rear. It is able to stop the car from 100 km/h to 0 in 28 meters and from 400 km/h to 0 in less than 10 seconds.
The mega car rolls 19" front and 20" rear carbon fiber wheels fitted with Michelin Cup Tires which have a speed rating of 440 km/h (273 mph).
Last, but not least, the One:1 has weight balance of 44% at the front and 56% at the rear, just like the Agera R.
2014 Koenigsegg One:1 will be built in a limited series of just 6 units and all of them have already been sold. One of these will be showcased at the 84th Geneva Motor Show, next week.
Source: Koenigsegg