If Koenigsegg One:1 Was Driven By Dubai Police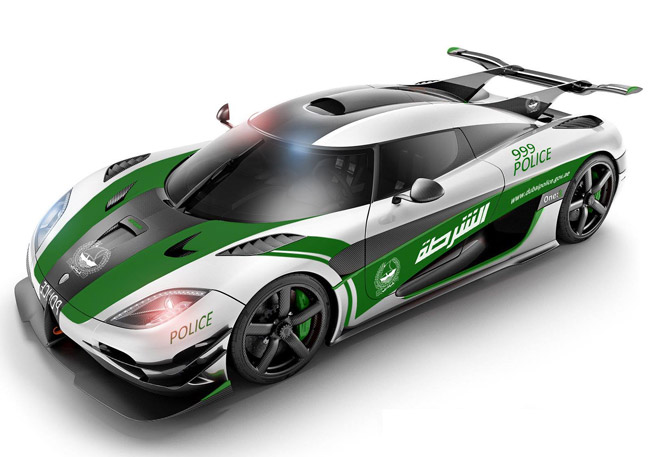 Dubai Police is probably the luckiest police department in the world because it is famous for driving some of the most expensive, exclusive and fastest cars in the world. In their fleet we have already seen Mercedes-Benz G-Class tuned by Brabus, Chevrolet Camaro SS, Aston-Martins and Lamborghinis. It was even speculated that a Bugatti has joined the exclusive line-up of Dubai police vehicles, however – soon proven wrong by A. Kahn Design.
What we have found over Facebook recently is an interesting render which shows how a Koenigsegg One:1 would look like if it has been attributed to this famous department. It is made by the creative digital artist and photographer Santapanter (real name is Teun Verwijmeren).
Dubai Police One:1 features unique exterior treatment – it is dressed in white, but has green and black accents all over its body. Carbon fiber is visible almost everywhere: on the top-cover, hood, rear wing, side sills, front and rear bumpers, rearview mirrors. Even the five-spoke wheels were made of this material.
Koenigsegg One:1 was unveiled one week ahead of Geneva Auto Show, where it made is official premiere. It is world's fastest production car, generating 1,341 horsepower (986 kW) and 1,371 Nm (1,011 lb-ft) of torque at 6,000RPM thanks to its 5.0 liter twin-turbocharged V8 aluminum engine.
This almost unbelievable amount of power is transmitted on the road through a dual-clutch seven-speed gearbox, which sends it to an electronic differential at the rear wheels. If you wonder about its top speed – well, it is 440 km/h (273 mph). The car covers the sprint from 0 to 400 km/h in just 20.0 seconds. And definitely this makes it perfect for the police department in Dubai.
Picture Source: Santapanter Photography Official Facebook Page