KW street comfort for the BMW 3 series coupe E92
Sportier handling and ride comfort all in one is now being offered by KW automotive for the BMW 3 series coupe E92 with a suspension from the KW street comfort product line. This allows the body of the BMW coupe to be lowered between 20 and 40 mm at the front, and between 15 and 35 mm at the back. In spite of the significantly sportier handling, the BMW also excels with outstanding ride comfort, even on poor road surfaces. KW street comfort is available for the BMW E92 with immediate effect.
KW street comfort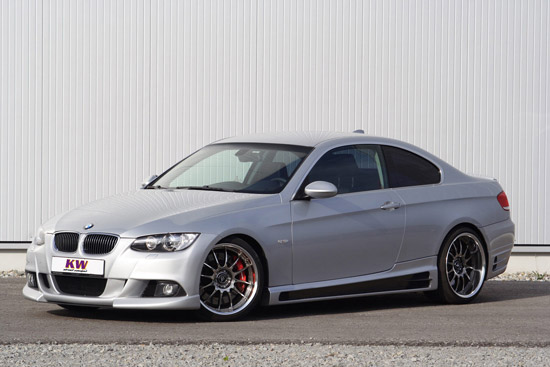 With the new product line KW street comfort, KW automotive GmbH has developed a coilover suspension which achieves the impossible. Individual lowering of up to 45 mm is possible while providing the highest driving comfort and noticeably improved performance, making long drives on both the expressway and fast country roads more enjoyable. The target group for KW street comfort are customers who desire more customization options than those offered by the manufacturers with their production sports accessories. They go in for a subtle lowering of the suspension and enhanced driving dynamics, but without forgoing a high level of ride comfort. The objective of KW street comfort is to ensure more harmonious tuning in terms of ride comfort than that achieved with the production sports suspensions supplied by the automakers. In addition, the height adjustment facility permits better adjustment to various wheel/tire combinations. This also allows the visual appearance to be changed to suit a driver's personal taste, which is not possible with the production setup. Whether subtle, or wedge-shaped (rear end higher than front end), everything is possible. The moment of truth comes when driving: in spite of all its sportiness, KW street comfort offers outstanding ride comfort even in conjunction with larger wheel rims, low-profile tires and on undulating, uneven roads.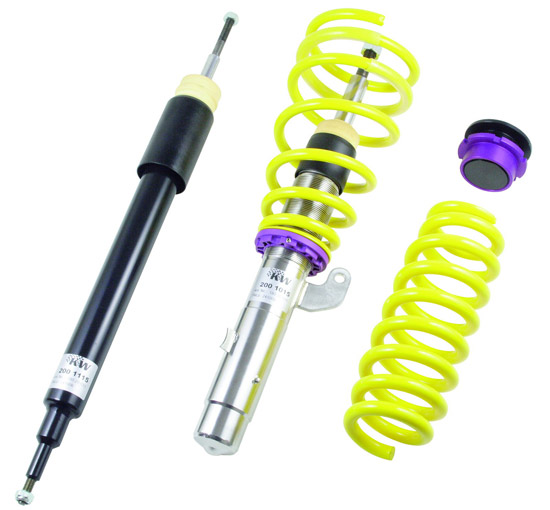 KW street comfort is produced using the high-grade steel technology "inox-line" specially for discerning customers and shines with numerous technical innovations. Handling is optimized through a noticeable reduced chassis roll and the acme thread allows simple height adjustments. The high-quality damper charateristics developed using a "Seven Post Driving Dynamics Test Station" which is normally mainly used in Formula 1 eclipses all solutions to date. With KW street comfort for the first time it is possible to optimize to perfection the advantages of a coilover suspension in both performance and comfort.