LaFerrari Roadster or how to sell a sports car before officially revealing it

Ferrari is releasing first exclusive images of the upcoming limited special edition
You are now given the chance to witness the birth of a future legend! Ferrari has just revealed the first images of a new limited and special edition series, which is going to be unveiled at the Paris Motor Show in September. Besides the exclusive trio of images the Italian super-car company released some specifics about the upcoming model, which is the open-top version of the LaFerrari!
Of course, as you would expect that this variant of the exclusive model is not made for ordinary people. On the contrary, it aims at clients and collectors who refuse to compromise on the joy of what Ferrari calls "al fresco driving". As a matter of fact, the company will be making strictly limited number of the roadster and all of the available examples have already been sold. And this happens even before the first images of the model were revealed!
SEE ALSO: When exclusivity meets style: Novitec Rosso Ferrari 488 GTB
Anyway, what we know so far is scarce, but enough to tease our curiosity. The LaFerarri roadster will be offered with not one, but two variants for the top. The first one is a removable carbon-fibre hard top, while the second is the traditional removable soft top.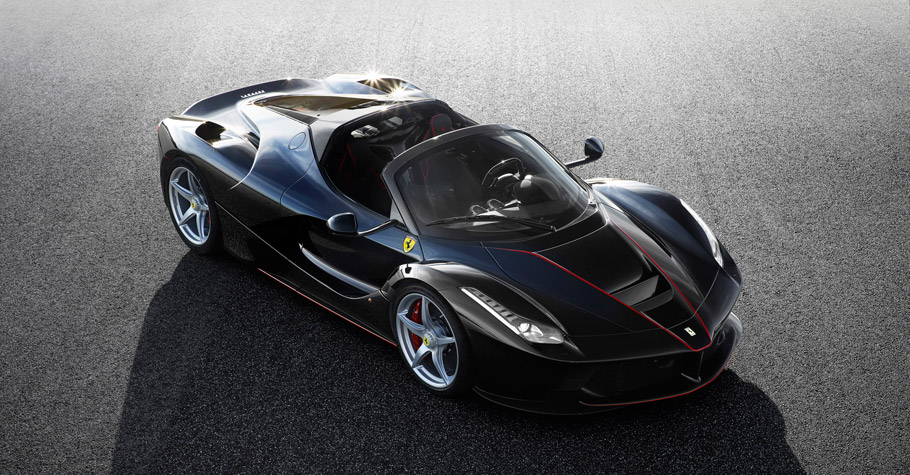 As expected, the model has the same running gear and performance figures as its "older" sibling. Precisely, it will be powered by a V12, which is coupled with a 120 kW electric motor. The total horses are estimated 963 hp, while the Newton meters reach 900! This is absolutely enough for a 0-100 km/h sprint of 2.9 seconds.
Ferrari also said that there have been significant and extensive modifications made to the chassis, so that the roadster could have the same torsional rigidity and beam stiffness as the coupe. In addition, the aerodynamics have been further honed ensuring that there is the same drag coefficient, despite the open-top driving.
Further details, including specifications and the real name of the open-top LaFerrari will be announced in Paris, or few days ahead of the debut there.
Source: Ferrari