Lamborghini Aventador LP 700-4 at Auto Shanghai 2011
Lamborghini has introduced Aventador LP 700-4 to the Asian market at the Auto Shanghai 2011. The manufacturer has also revealed Gallardo LP 550-2 Tricolore at a special off-site event held in the Shanghai Expo.
Lamborghini has achieved over 150% sales growth in 2010 compared to 2009, so the Chinese market is very important for the company. The plans of the brand are to expand its dealership network to 20 dealers from fourteen, nowadays.
"Our presence at Auto Shanghai 2011 reflects the importance of the Chinese market, which is now our second most significant after the USA. The appeal of the Lamborghini brand in China is illustrated by the launch here of the Gallardo LP 550-2 Tricolore: definitively Italian, and with all the performance and handling a Lamborghini Gallardo promises. Demand for our cars continues to grow: our worldwide order book for the Lamborghini LP 700-4 Aventador is already eighteen months ahead of production.", commented Stephan Winkelmann, President and CEO of Automobili Lamborghini.
"The Lamborghini brand has very strong appeal in China, so it is fitting we should launch our new show stand here," added Mr. Winkelmann.
"Lamborghini also runs regular events in China, including at least one track day every month, Winter and Track Academies, which allows our clients to explore the Lamborghini brand and lifestyle alongside the cars.", he finished.
Aventador LP 700-4 is powered by a 6.5 liter V12 with 700PS (515 kW) and 690Nm (509 lb-ft). The engine is mated to a 7-speed ISR gearbox. 0 to 100 km/h - 2.9 seconds and Vmax - 350 km/h (217 mph).
Gallardo LP 550-2 Tricolore has a 5.2 liter liter V10 with 550PS (404 kW) and 540Nm (400 lb-ft). The engine is mated to a 6-speed manual or automatic gearbox. 0 to 100 km/h in 3.9 seconds and Vmax – 320 km/h (199 mph).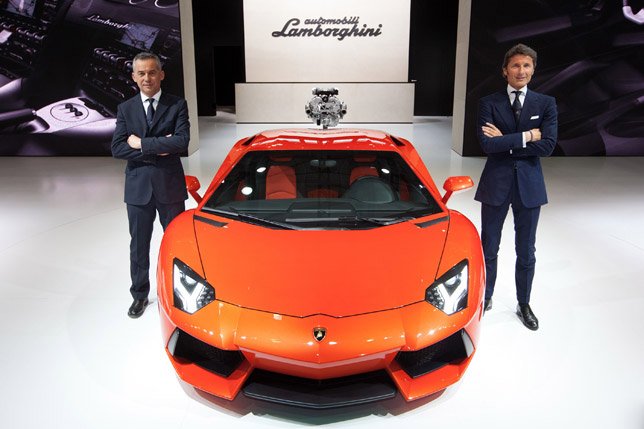 Source: Lamborghini