1 000th Lamborghini Aventador LP 700-4 produced
Lamborghini Aventador LP 700-4 has just marked an important milestone in its history, with the 1,000th vehicle produced. The Argos Orange Lamborghini, which has a chassis number 1,000, is destined to be driven in Germany and has just rolled off the assembly line.
The lucky owner is the German architect Hans Scheidecker, has just received the keys of the car from Automobili Lamborghini President and CEO, Stephan Winkelmann.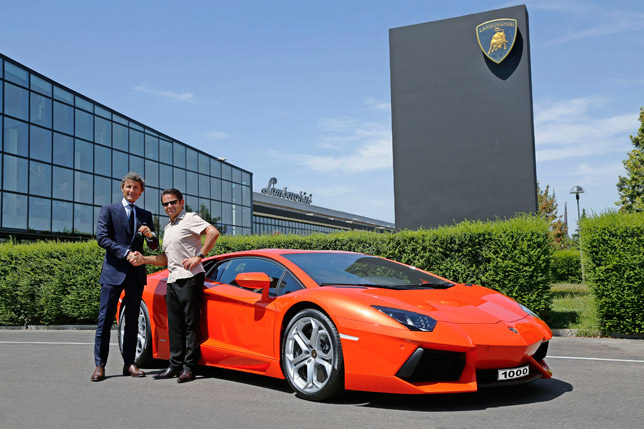 Introduced just in 2011 the Aventador has taken just one year and three months to achieve the milestone of producing the 1000th vehicle. This means that the average number production of the supercars is 4.5 a day.
LP700-4 is powered by a 6.5 liter V12 with 700PS (515 kW) and 690Nm (509 lb-ft). The engine is coupled to a 7-speed ISR gearbox specially supplied by Graziano Trasmissioni Group. The shift time is just 50 milliseconds. The power is put on the road through a Haldex AQD system.
As a matter of fact, just more than a year from its official debut, the Aventador has been awarded with 36 international prizes, praising its design and innovative technological solutions.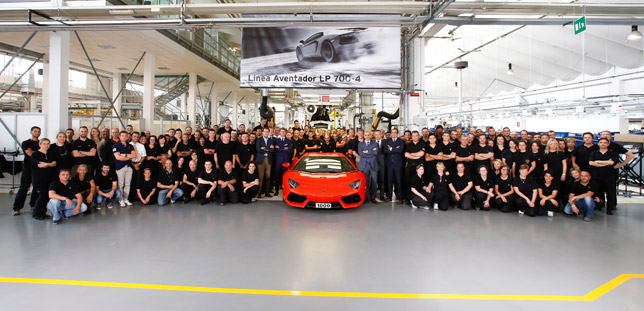 Source: Lamborghini