Ultimate open-air experience: Lamborghini Aventador LP 700-4 Roadster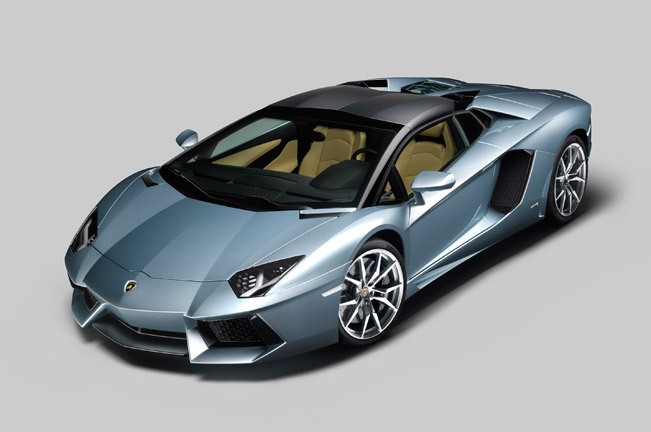 One of the most exciting open-top luxury super sports cars has just been unveiled and it is the new Lamborghini Aventador LP700-4 Roadster. Since the coupe version gained many appraises with over 1300 units already delivered to customers, the brand is now offering a convertible version of it.
The new Lamborghini Roadster has unique profile of its upper area, which extends along newly designed geometric lines from the removable roof to the engine hood. The design shows the best combination of performance, elegant presence and delivers ultimate driving pleasure.
To go further into details, the two-piece roof is made entirely from carbon fiber with the help of RTM and Forged Composite® technologies, which ensure optimum aesthetic performance and stiffness.
Additionally, they are easily removable and attachable, and can be stored in the front luggage compartment. The rear pillar here got a new design and offers maximum support for the removable roof. Furthermore it has an automatic protection system for passengers, and provides the engine compartment with ample ventilation.
The central "spinal column" with two pairs of hexagonal windows connected at the sides is what differentiates this convertible from the coupe model. Moreover, the powered rear windshield not only influences the flow of air in the vehicle, but also controls the experience of the sound from the twelve-cylinder engine.
Next, the wind deflector delivers complete calm inside the car, no matter the speed. It is positioned on the front windshield frame and can likewise be stored in the luggage compartment when not in use.
The exterior here is finished in two tones, while the windshield pillar and the two roof sections and the rear window area up to the "fins" are painted in gloss black. In particular, color available is the metallic blue color Azzuro Thetis, whose tone varies with the angle of the light.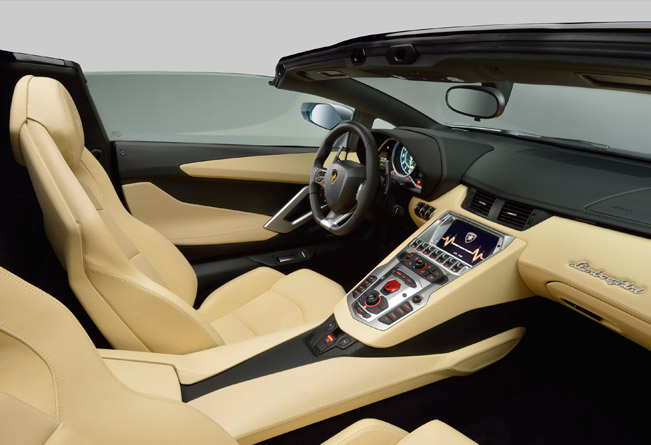 How about the interior? Here one can find the leather Sabbia Nefertem wrapped saloon and a great attention to the detail. At last, the Roadster includes Dione 20"/21" rims, crafted in light forged aluminum.
But what is the Aventador all about? Speed of course! LP700-4 Roadster accelerates from 0 to 100 km/h in only 3 seconds flat and has a maximum speed of 350 km/h. These numbers a possible thanks to its great aerodynamics and the 6.5 liter aspirated V12.
The latter produces 700 hp (515 kW), and is mated to an ISR 7-speed gearbox. The V12 also includes a cylinder deactivation system when the engine is working at partial capacity. On the other hand the Stop & Start system features high-performance capacitors known as supercaps to awaken the engine.
Lamborghini Aventador LP 700-4 Roadster has a starting price of 300,000 euro.
Source: Lamborghini