Lamborghini Huracan LP 610-4 Polizia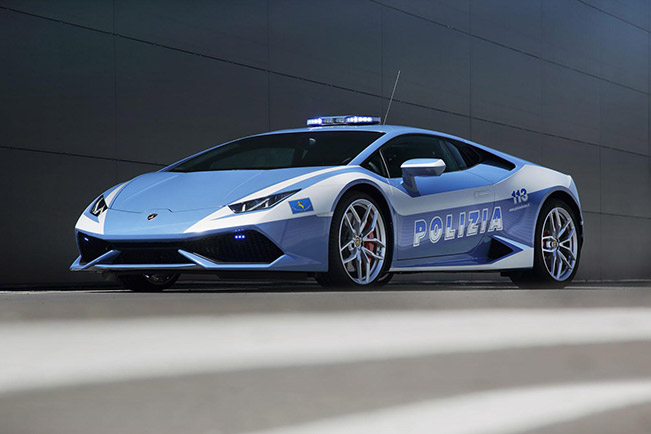 The Italian State Police has received a brand new Lamborghini Huracan LP 610-4 Polizia. The super-sport car comes with a number of modifications to be useful by the police officers.
Outside, the police Huracan can be immediately recognized by the enormous LED light bar and the traditional blue and white livery.
Some of the features include a "Proof Video Data System", which uses a camera and computer to record any suspicious activity. Unfortunately for felons, the car has a removable display that can be used to show misdoing to them instantly. The special Huracan also has a gun holster, a police radio and a "Paletta" that advises motorists to pull over. There is also a defibrillator and a refrigeration system.
Otherwise, the Huracan LP610-4 is powered by a 5.2 liter V10 – 610HP (448 kW) and 560Nm (413 lb-ft) of torque. 0-100 km/h in 3.2 seconds, 0-200 km/h in 9.9 seconds and a top speed of 325 km/h (202 mph). The model also has an engine start/stop system which enables the car to average 12.5 L/100km (18.8 mpg US / 22.5 mpg UK) with CO2 emissions of 290 g/km. The engine is connected to a 7-speed dual clutch transmission and an all-wheel drive system.
It will be extremely tough to escape from a Huracan, especially if criminals do go off-road.
Source: Lamborghini