Lamborghini Urus at 2012 Beijing
What we see here, is evidence that the world has gone SUV-mad. Lamborghini have brought the heavy artillery to the 2012 Beijing Auto Show with the Urus SUV Concept. We say heavy, but actually, the company claims that the Urus will thrash the other fatties from the segment thanks to their ever-improving craftiness with carbon-fiber composites.
So what's at the core of this concept? Some might be surprised but this is not Lamborghini's first venture into the SUV world. It's their second. Back in 1986 the LM002 was launched which looked like a Hummer on steroids, had 450 bhp and a top speed of 210 km/h. Despite remaining in production until 1992, only 300 units were ever made. Not what you call a commercial success then.
The name behind the new one is in part ironic. Urus (or aurochs) is an extinct species of cattle – a rather majestic and tall looking breed of bulls, ancestors of the modern Spanish Bull. Now, we understand that you can't name something that looks like a genetically modified Lamborghini Aventador on hoofs after a standard bull but isn't the fact that the aurochs have been "outdated" sort of a bad sign?
Anyways, Lamborghini are still quiet about what's under the hood. "Expect something around 600 bhp" is not something we can work with here. Low emission pioneering is also amidst the company's daring claims, because it will be light they say. But how light can a 5 meter long and 2 meter wide bulk of brawn can be? It sends its power trough trough a permanent AWD system complete with traction control. (which, again, does not sound very light).
Aerodynamics are said to play an important part as well. The suspension is widely adjustable. The front spoiler is also height adjustable so that it can provide a proper ground clearance or add some stability and efficiency on the flat tarmac. The outside features are less than a handful but for a purpose – a minimalist construction. No side view mirrors (cameras inside), no gun turrets and no excess weight. The only thing that sounds too much is the size of the wheels: 24 inches of matte aluminum glory and double spoke design.
Inside the Lamborghini Urus, there is a seating for four (two too many for a Lamborghini to be honest). The carbon fiber diet there is just as relevant as it is for the outside. The center tunnel for example, is an open skeletal carbon fiber structure made from Forged Composite. It's the backbone of the whole interior and it is only partially clad in leather-upholstered cushioning. The four bucket seats (Forged Composite as well) are also cushioned by a single body. Then, behind the steering wheel, one would find only paddle shifters. So Lamborghini has gone the Ferrari Italia way and placed the indicator storks/buttons somewhere irrelevant. And this is supposed to be an everyday vehicle?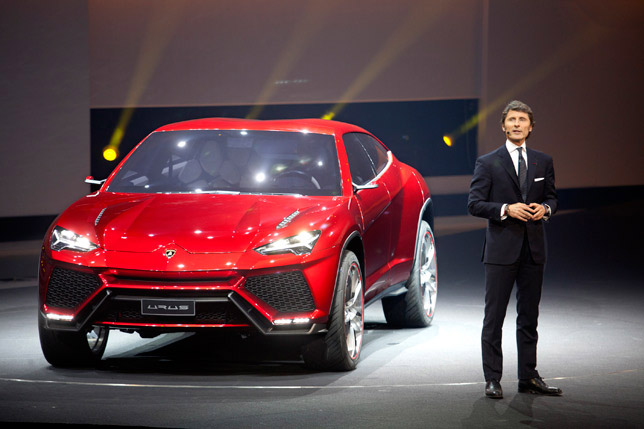 Source: Lamborghini