Lancia Ypsilon Diamond
Lancia is presenting the Ypsilon Diamond show-car at this year's Frankfurt Motor Show. This precious "cut" of Lancia's little jewel represents the ultimate in luxury, typified by prestigious interior materials and a refined body finish created by a unique paint treatment and finish. The Diamond is no mere exercise in styling but a genuine experiment by Lancia to identify luxury content for a possible production model.
The Diamond's colour scheme features Lancia's new "eco-chrome" finish, which achieves a chrome effect by means of a special paint rather than by conventional chrome plating. Tinged with a warm, "white gold" nuance, this unique new eco-chrome finish has been applied to various parts of the body, including the sun roof, mirror covers, grille, headlight surrounds, pillar and tailgate logos, door handles, bonnet, spoiler, exhaust terminal and alloy wheels. The rest of the body is finished in an elegant soft-touch effect colour called "Chiffon White".
The team at the Lancia Style Centre has paid special attention to the Ypsilon Diamond's refined colour scheme. After all, colour has never been simply a matter of aesthetics for the Ypsilon. On the contrary, it is an integral part of a product philosophy based on elegance, glamour, personality, play, creativity, style and the widest array of customisation options.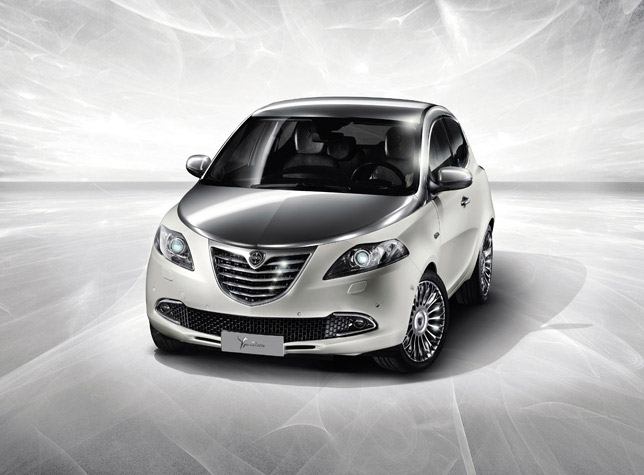 The Ypsilon Diamond's fascinating and original exterior finish is backed up by an interior that achieves a perfect blend of elegance and refinement. The upholstery is characterised by Lancia's trademark attention to detail and by the use of superior quality materials, from luxurious, bronze-black galuchat hide on the central sections of the seats and on the head rests with the Ypsilon logo, to glittering, soft, embossed nabuk hide on the seat sides, dashboard and door panels.
This two-tone theme extends to the rest of the interior too. The roof is covered in a light Alcantara fabric that matches the paint finish of the door pillars and sun visors, while the bottom section of the dashboard is finished in a contrasting dark shade. The steering wheel, instrument cowl, and handbrake and gear lever boots are in sumptuous black leather. The connotation of sartorial craftsmanship is reinforced by double stitching and embroidering in both contrasting and matching colours.
Finally, in perfect harmony with the outside of the car, the special eco-chrome finish reoccurs inside on the air vent surrounds, glove compartment handle, door handles, steering wheel spokes and gear lever surround. The gear lever is made even more exclusive by a crystal effect, methacrylate gear lever knob made to look like a gem stone, reminding occupants of the name of this Lancia show-car.
Source: Lancia