Land Rover has revealed the incredible Ingenium diesel unit, that will be geared to the Discovery Sport. The highly successful SUV will be available with boosted overall performance and better fuel consumption efficiency. The Ingenium diesel is a 2.0-liter four-cylinder engine, that delivers class-leading power output, that is combined with reduced emissions and better torque.
The Discovery Sport Ingenium engine will come in two variations: 150 hp (110 kW) and 180 (130kW). Both of the engine models are especially designed to bring incredible performance and as low as possible emissions, measured 129 g/km and respectively 139 g/km.
SEE ALSO: Kahn Mixes the Defender with Chelsea Wide Track
The Ingenium-geared Discovery Sport TD4 150 hp will also feature a special engine tuning, that bring the highest possible energy efficiency and18-inch wheels. The 180 hp model brings the 5+2 seating as a standard. The Discovery Sport is geared with incredible safety system, that includes Pedestrian Airbag, Autonomous Emergency Braking system, Driver Assistance and many other.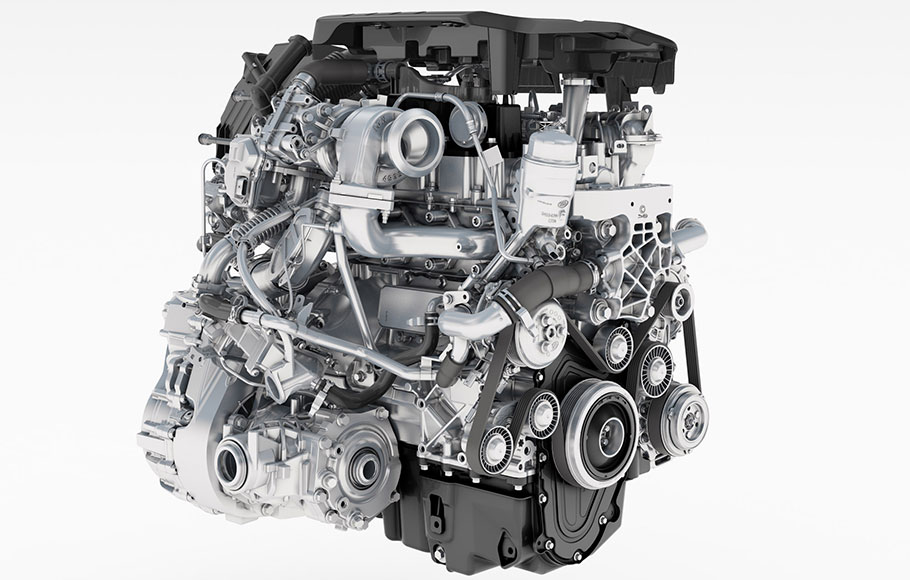 As you know, Land Rover has some incredible popularity in UK and in fact, all around the world. Since the launch of the latest model in September 2014, the brand has more than 6,500 orders for the latest Discovery Sport.
This is definitely a car and an engine you should check out.
Press Release:
Whitley, UK, April 27th 2015 – Land Rover has announced its innovative Ingenium diesel engine will be introduced to the Discovery Sport. Following its highly successful launch in September 2014, the premium compact SUV will now be available with enhanced performance and economy.
The 2.0-litre four-cylinder Ingenium diesel engine is designed to deliver class-leading torque and power outputs, combined with excellent refinement, reduced CO2 emissions and lower fuel consumption.
The Discovery Sport's EU6 compliant Ingenium engine will be available with two power outputs, 150PS and 180PS. The new 150PS derivative in its five seat set-up provides fuel economy of up to 57.7mpg and CO2emissions from 129g/km, whilst the TD4 180PS in its standard 5+2 configuration delivers 139g/km and 53.3 mpg on the combined cycle.
The arrival of these cutting-edge engines, which will replace the current diesel engine in EU6 markets, ensures Discovery Sport is one of the most efficient premium compact SUVs that both private and Fleet & Business customers can buy.
Murray Dietsch, Director of Land Rover Programmes, said: "Land Rover's new family of Ingenium engines is truly class leading. By introducing it to the Discovery Sport, we can now offer enhanced fuel economy and reduced CO2 emissions, while improving overall performance. The Ingenium engine confirms Discovery Sport's position as the most versatile and capable compact premium SUV in the world."
The new aluminium TD4 engine features lightweight construction, with stiff cylinder blocks and decoupled injectors, which ensures low levels of vibration and noise intrusion, further enhancing the driver experience.
A series of advanced technologies reduce internal friction, improve refinement and enhance overall performance. In addition, Selective Catalytic Reduction and a new low-pressure exhaust gas recirculation system significantly reduce both CO2 and NOx emissions.
The Ingenium-powered Discovery Sport TD4 150PS will be designated an 'E-Capability' vehicle, with a blue 'Sport' badge highlighting the most efficient variant. These vehicles will also feature 18-inch wheels with low rolling resistance tyres. The final drive gearing and engine calibrations have been optimised to provide the lowest possible CO2 for the vehicle. E-Capability introduces a five seat option in the UK for the first time, with all TD4 180PS variants remaining with 5+2 seating as standard.
The Discovery Sport is equipped with a range of class-leading safety features, such as a first-in-segment Pedestrian Airbag, Autonomous Emergency Braking (both standard) and a suite of driver assistance features; all of which has led to the Discovery Sport being awarded with a Five Star Euro NCAP rating.
Land Rover's advanced new Ingenium engines are manufactured in the UK at the company's new state-of-the-art £500m Engine Manufacturing Centre in the West Midlands, which is set to produce 450,000 Ingenium engines each year.
Since its launch in September 2014, Land Rover UK has received more than 6,500 orders for the new Discovery Sport, and together with Jaguar Land Rover's range of Ingenium engine, have contributed more than £4bn to the UK economy and created 1,650 jobs.
The new Ingenium engine is available to order now with first customer deliveries commencing from September 2015.
Source: Land Rover