Larte Design Range Rover Evoque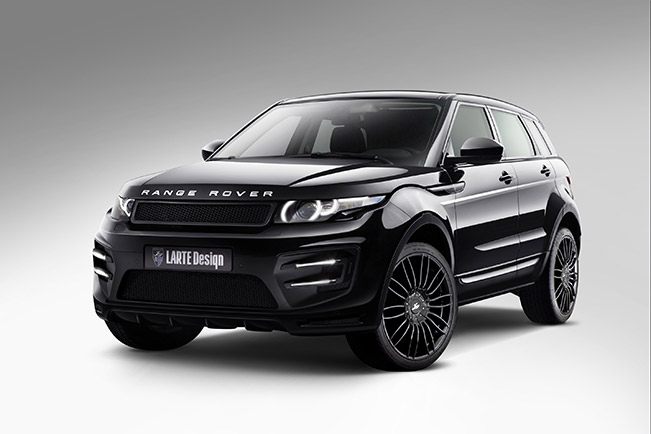 Larte Design has unveiled their latest tuning program for the stylish Range Rover Evoque. It includes spectacular Light-Guide daytime running lights developed in cooperation with the German OEM Nolden.
The Light-Guide technology with predefined refraction points in a polycarbonate corpus produces a totally homogeneous and luminous light band. With the serial headlights, using Light-Guide technology for its parking function, this makes for visual concord. The Larte LED strips run parallel, instead of the original single-strip version. The new LEDs significantly improve the front end giving it more sporty appearance and aggressive stance.
The new DRLs underline the overall appearance of the big crossover coming with a full body kit produced by Larte Design. It consists of a modified front and rear bumpers. There is also a complete stainless steel sports exhaust system specially developed for Larte by the famous company – Remus. The pipes come with laser-engraved Larte logo. Last, but not least is the set of 21" alloy wheels finished in shiny black paint.
Their typical feature are the filigree convex pairs of double spokes, representing sheer dynamism and completing this impressive Gesamtkunstwerk – a total work of art by Larte.
Source: Larte Design