Leib BMW M3 GT 500 Delivers 470 Horsepower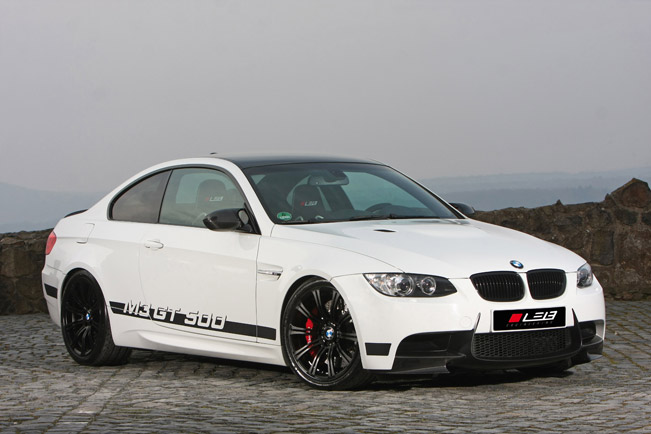 Leib BMW M3 GT 500 is a tuning worth the attention. The performance specialists at Leib Engineering have presented their first project vehicle which is the perfect balance between the fast club sport racing element and the element of the representative "Boulevard-Beau".
In other words the BMW looks stunningly beautiful, because the tuners gave it high-grade finishing through a OEM carbon fiber parts. They in turn contrast the alpine white paintwork. In particular, the carbon flaps are positioned under the front spoiler, the side-view mirror and the tear-off edge are also made of carbon.
Another highlight in this transformed car is the new in-house valve exhaust system which is made of high-grade steel and which covers a 100-cell HJS catalyzer, an X-pipe with middle silencers and an end muffler with vacuum-controlled Pierburg valves. The sound of the system is controlled through the M-key.
To go even further into detials, the performance boost equals circa 27.5 horsepower achieved through the optimization of the engine software in such a way that altogether, a good 470 hp (345 kW) is sent in the direction of the drive train – Suction Tuning par excellence.
The additional power is balanced through the instalation of Brembo GT braking system, whose red six-piston fixed saddles on the front axle hold perforated 380x32-millimeter discs firmly in their grip. The four-piston saddles on perforated 320x28-millimeter brake discs act on the rear.
Moreover, the Leib BMW M3 GT 500 runs on BMW M220 forged alloy wheels of size 8.5x19 and 9.5x19 inches for the front and the rear respectively. They were matched with Michelin Pilot Sport Cup semi-slicks in sizes 235/35R19 and 265/30R19.
On the other hand the ABS software was especially designed for motor sport application with semi-slicks, in such a way that even shorter breaking distance can now be achieved. The dual clutch transmission system oprates with even shorter shifting times after a software update.
What is more, the electronic system of the KW DDC ECU chassis suspension was tuned by Leib Engineering. The result is that now the electronic damper control system of the high-tech coilover suspension can controlled through the original EDC key or M key.
At last, the interior has been also "touched". Throughout the cabin one can see fine alcantara, in fact the BMW Performance seats and the steering wheel were all wrapped with this material.
Source: Leib Engineering