2013 Lexus ES 350 and ES 300h Hybrid with Improved Handling and Design
2013 Lexus ES 350 and Lexus ES 300h Hybrid are the sixth generation of Lexus' popular luxury sedan. As new models they of course offer new and progressive design, refinement and even higher quality. Both vehicles are now available with Lexus Hybrid Drive.
More importantly, this is the first Lexus ES, which will include the Lexus Hybrid Drive. It comes equipped with a 2.5-liter four-cylinder Atkinson cycle engine, which is expected to provide fuel economy ratings of approximately 40 mpg city, 39 mpg highway and 39 mpg combined. In addition, thanks to it the ES 300h is able to generate 200 horsepower (147 kW).
In addition, this engine is low friction and uses a sophisticated power management system and high compression ratio (12.5:1) to increase the efficiency. Moreover, it includes electric water pump, electric power steering, and an integrated hybrid electric motor/generator. Surprisingly, this engine does not require any accessory belts, the result of which is that the beltless design helps improve fuel efficiency and the overall reliability.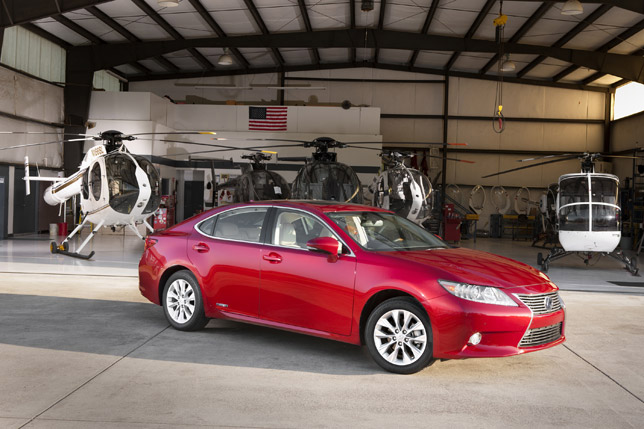 On the other hand the 2013 Lexus ES 350 is powered by a 3.5-liter V6 engine with Dual VVT-i. As a result of the powerful engine, the vehicle is able to produce 268 horsepower (197 kW) at 6,200 rpm and 183 Nm (248 lb.-ft.) of peak torque at 4,700.
The engine is mated to a six-speed sequential-shift automatic Electronically Controlled Transmission which comes equipped with intelligence (ECT-i). The latter provides improved driving performance, fuel efficiency and smooth shifts. The fuel economy of the car is additionally improved due to the use of friction materials. Its fuel economy numbers are 21 mpg city, 31 mpg highway and 24 mpg combined.
Both Lexus models include Drive Mode selector, which offers selection among Normal mode, Eco one and Sport one. When Normal mode is on, it delivers mixture of performance and efficiency likable for everyday driving.
On the other hand the Eco mode is more suitable for cases when the driver really wants to save from fuel. The last mode, the Sport one, enhances the powertrain and steering responsiveness, and for the ES 300h, the IP changes from the hybrid power monitor to a tachometer.
One additional mode comes for the ES 300h which is named EV and allows short distance drives, at reduced speed, utilizing only the power from the hybrid battery pack.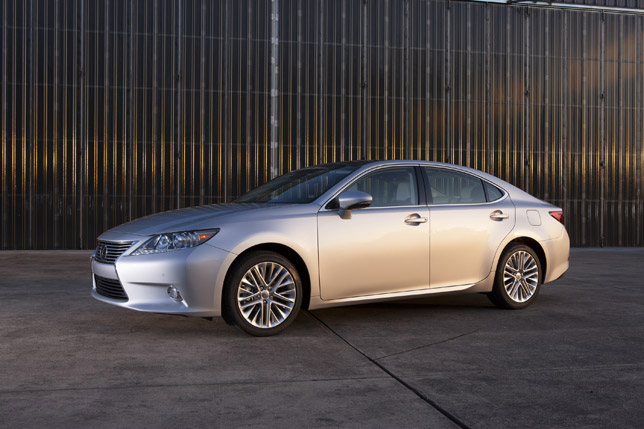 Some suspension changes, including stiffer body and a quicker steering gear ratio, were include in the 2013 variants of this model. They result in more precise handling.
In details, the front suspension uses the opposite-wound coil springs to help enhance straight-line stability. The rear suspension is also revised in terms of geometry and improved shock absorber damping characteristics. The rigidity of the body has also been enhanced due to the use of lightweight, high tensile strength steel, added bracing and more spot welds.
The ES will run on the standard 215/55R17 low rolling resistance tires on 17-inch alloy wheels. As an option there are available 17- and 18-inch high-gloss alloy wheels.
In terms of safety and security these vehicles come equipped with wide array of standard and optional safety features: Blind Spot Monitor with Rear Cross Traffic Alert (RCTA), Available Lane Departure Alert (LDA), Pre-Collision System (PCS), 10 airbags as standard equipment, Whiplash Injury Lessening (WIL) front seats, Lexus Safety Connect, including Enhanced Roadside Assistance, an Emergency Assistance Button (SOS), Stolen Vehicle Location services, and Automatic Collision Notification.
A luxury feature include in the Lexus is the enhanced NuLuxe seating surfaces, which were developed in order to help reduce environmental impact. The interior colors available are Black, Light Gray, and Parchment. Trim colors and materials include Piano Black, Espresso Bird's-eye Maple, plus Bamboo for the ES 300h.
The exterior of the new ES includes a lower profile and clean styling lines from front to rear. It carries Lexus' distinctive spindle grille. The "L" design motif is reflected in the LED daytime running lights and combination rear lamps. Fog lamps are integrated into the sculpted lower front bumper fascia.
The ES 350 comes equipped with dual exhaust pipes, while the ES 300h features an exceptional rear design with hidden exhaust and an integrated rear spoiler. Other details specific to the hybrid include unique blue badging and distinctive 17-inch alloy wheels.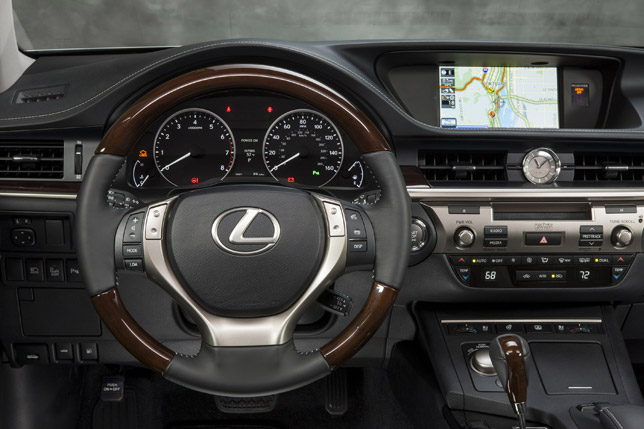 How about the interior of the car? The ES features improved sightlines and visibility, logically placed controls, and new cabin materials. More importantly, there is provided a greater rear seat legroom and knee room which result in more spacious passenger cabin. In particular, the rear headroom is increased by 0.8 inches, knee room is increased by 2.8 inches and legroom is lengthened by 4.1 inches.
The cockpit now includes separate display and operation zones. The instrument panel is longer and shows the important information on a 3.5-inch color TFT multi-information display screen directly in the driver's line of sight.
Source: Lexus