2012 Lexus GS 450h features 254kW Atkinson cycle hybrid drivetrain
2012 Lexus GS 450h is the most efficient GS ever created by the brand. It includes an advanced petrol-electric hybrid drivetrain which will contribute the model to become of the most efficient vehicles in its class.
Thank to its unique hybrid system, the Lexus' efficient hybrid powerplant consumes just 6.3 litres of fuel per 100km. This means in fact that the new customers will save circa twenty percent from fuel in comparison to the outgoing model. At the same the CO2 emissions have been also reduced significantly to the number of 147g/km.
The performance of this Lexus hybrid vehicle is reassured by a combined power output of 254kW. Thank to it, the 450h can accelerate from 0-100km/h in just 5.9 seconds.
What is more here, compared to its predecessor, the GS 450h also offers greater space and onboard technology. This is mainly due to the redesigned chassis. There is also forty-five percent more boot space which now is increase from 320 to 465 litres.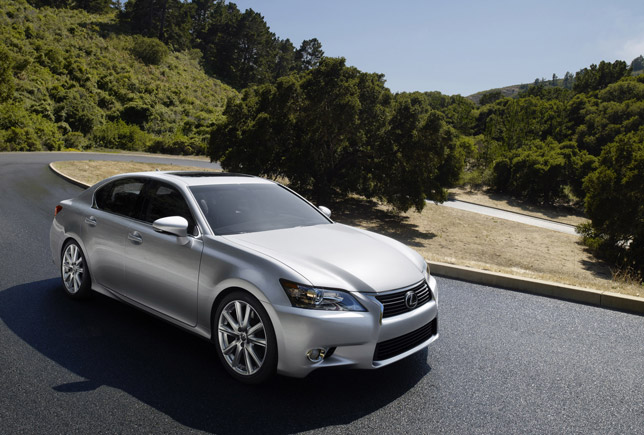 Another interesting fact here is that the GS 450h is actually the first hybrid vehicle, which comes equipped with all-wheel steering. And in particular, it is the first one to include an Atkinson cycle engine driving the rear wheels, and the first Atkinson cycle engine to feature direct and port injection.
In terms of security and safety features, there are some innovations included, such as: an advanced Pre-Collision safety System (PCS), a Driver Fatigue Monitor camera, and a complementary Adaptive Cruise Control system (ACC). The latter now operates at all speeds down to 0km/h.
Additionally, the safety suite is enhanced by a Blind Spot Monitor, which now comes as a standard to detect vehicles in adjacent lanes, and an expanded Head Up Display (HUD) unit. This unit shows the road speed, cruise control, gear position, turn-by turn navigation and tachometer.
GS 450h models will be offered in three trim levels: Luxury, F Sport and Sports Luxury, which are expected to be launched in June this year.
2012 Lexus GS 450h Technical Specifications:
Engine
Engine type
2GR-FXE 3.5L V6
Capacity (cm3)
3.456
Cylinders/valves
V6/24
Engine configuration
Atkinson cycle, six cylinders, V-formation, 24-valve, DOHC, four valves per cylinderand alloy cylinder block. Featuring direct and port injection
Bore x stroke (mm)
94.0 x 83.0
Compression ratio
13.0
Max. combined output
254kW
Max. engine output
215kW @ 6,000rpm
Max. engine torque
352Nm @ 4,500rpm
Hybrid battery
type
Nickel-Metal Hydride (Ni-MH)
voltage
650V
Max. motor output
147kW
Max. motor torque
275Nm
Transmission
Type
Six-step E-CVT (Electronic Controlled Continuously Variable Transmission) with paddleshift
Steering
Turning diameter ([email protected])
11.2, or 10.8 with rear steer
Luxury
Rack and pinion, Electric Power Steering (EPS)
F Sport
Rack and pinion EPS with Variable Gear Ratio Steering and Dynamic Rear Steering
Sports Luxury
Rack and pinion EPS
Seating capacity
No of seats
5
Exterior dimensions (mm)
Overall length
4,850
Width
1,840
Height
1,455
Wheelbase
2,850
Interior dimensions (mm)
Front to rear couple distance
945
Front legroom
1,075
Rear legroom
935
Driven wheels
Type of drive
Rear-wheel drive
Wheels and tyres
Luxury
18 x 8J alloy (F/R) Dunlop 235/45 R18 94Y (F/R)
F Sport
19 x 8J (F), 19 x 9J (R) alloy Bridgestone 235/40 R19 96Y (F) 265/35 R19 94Y (R)
Sports Luxury
18 x 8J (F/R) alloy Dunlop 235/45 R18 94Y (F/R)
Brake type
Ventilated front and rear disc with Anti-lock Braking System (ABS), Electronic Brake-forceDistribution (EBD), Brake Assist (BA) and Vehicle Dynamics Integrated Managementsystem (VDIM)
Luxury
334 x 30mm front 310 x 18mm rear
F Sport
356 x 30mm front 310 x 18mm rear (Two-piece rotors front with four piston calipers)
Sports Luxury
334 x 30mm front 310 x 18mm rear
Performance
0 - 100km/h (s)
5.9
Max. speed (km/h)
250 (limited)
Fuel consumption (L/100 km)*
Combined
6.3
Urban
6.9
Highway
5.8
* Fuel consumption will vary depending on driving conditions/style,vehicle conditions and options/accessories. Source of fuel consumption data: ADR81/02 combined cycle.
CO2 emissions (g/km)
Combined
147
Source: Lexus