Lexus LF-CC Concept at the Paris Motor Show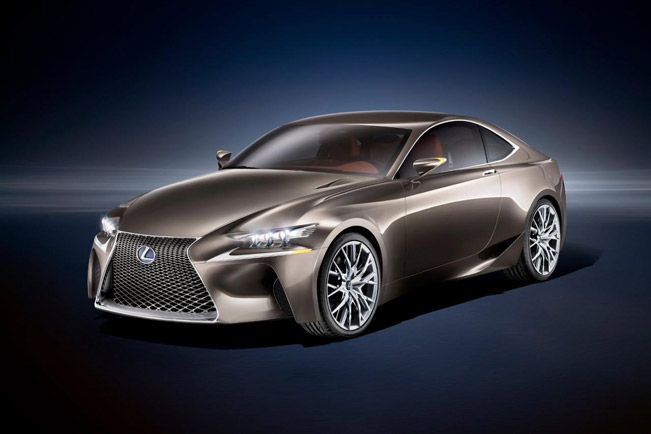 After the unveiling of Lexus' award-winning hybrid 2+2 sports coupe concept, the LF-LC at the 2012 Detroit Motor Show and its European debut at the Geneva Motor Show, a new, mid-sized coupe concept, the LF-CC makes its World Premiere at the 2012 Paris Motor Show. The manufacturer is actually trying to take a huge part of the market with its innovative and interesting model.
The more compact, rear-wheel drive, full hybrid LF-CC already integrates various design cues from the LF-LC; a first illustration of how concept cars are truly influencing future Lexus models and, in this instance, future D-Segment derivatives.
Announcing the launch of a premium mid-sized coupe in the more accessible D-segment in the near future, the LF-CC reinforces Lexus' commitment to create more engaging, inspirational vehicles through attractive design, a superior driving experience and advanced technologies.
The exterior is just spectacular. It boasts the signature Lexus 'spindle' grille, which is framed by the bonnet lip, deep lower spoiler and powerfully projecting front fender tips. A unique, 3 LED-projector headlamp design is housed in the narrow gap between the lower and upper fender surfaces, without a conventional, one-piece cover. Independent Daytime Running Lights (DRLs) are fully integrated into the upper bumper surface to complete this unique new design.
The interior is also exceptional. There are two distinct zones of the dashboard called "Display Zone" and "Operation Zone".
The first one has a multi-display screen installed on the upper side while below the second zone provides access to the shift lever and also for the touch tracer display for the remote system control.
Representing a new Lexus powertrain for future production, the LF-CC is equipped with an all-new, highly efficient, 2.5 litre full hybrid powertrain delivering a combination of the engaging performance appropriate to a sporting, D-segment coupe and low CO2 emissions, targeted below 100 g/km. This powertrain will achieve class-leading energy efficiency, with more than 2 hp produced per gram of CO2.
This Lexus Hybrid Drive powertrain features an all-new, ultra-smooth running, 2.5 litre 4-cylinder petrol engine mated to a compact, high-output, water-cooled permanent magnet electric motor.
Adapted specifically for the hybrid powertrain, the all-new 2.5 litre, DOHC, 4-cylinder petrol engine benefits from several technical improvements. It adopts the Atkinson cycle and D-4S direct injection technology to optimise both the power and fuel-efficiency benefits of Lexus Hybrid Drive.
Lexus will introduce this new hybrid powertrain into its model range in the near future.
Source: Lexus