2013 Lexus LX 570 SUV With New Look
2013 Lexus LX 570 SUV now comes with updated exterior styling with signature spindle grille, new 20-inch alloy wheel design, bumpers and lights. In addition it includes a host of new comfort, convenience and driver assistance features. Furthermore, the revised model line-up now comes with more competitive pricing than its predecessor.
The bold new face of the SUV now gives it more sporty stance and includes Lexus' signature spindle grille.
Moreover, the new 2013 Lexus LX 570 SUV also rides on new 20-inch alloy wheels along with exterior and interior styling updates.
In addition, the exterior design is now equipped with new LED daytime running lights, which complement a new headlamp design and larger fog lamp surrounds.
Next, revised front and rear bumpers, tail lamps and a new discreet tow hitch cover are featured in the upgrades as well. LX 570 is also to offer unmatchable comfort, convenience and safety features. One of which for instance is the new off-road Turn Assist. It adds more brake force to the inside rear wheel.
Additionally, adding to the off-road assistance is the new selectable Multi-Terrain Select function, which delivers the ideal combination of stability and traction control assistance over different surfaces.
Here the person behind the wheel can select from five types of terrain modes: rock, rock and dirt, mogul, loose rock, and mud and sand. By doing so, he or she will optimize vehicle's performance in the specific condition.
The off-road and city driving, in addition, are made easier with the new Multi-Terrain Monitor, which utilizes four external wide-angle cameras. They monitor blind spots or areas of the vehicle obscured from view. The cameras' vision is projected on the 8" LCD centre console display.
A new multimedia display, housed between the speedometer and tachometer, displays the front wheel angles (steering), digital speed readout, turn-by-turn navigation and information relating to the Multi-Terrain Select function.
Next to be mentioned is the Crawl Control feature, which has also been upgraded. It now comes with number of preset speeds upgraded from three to five steps, for greater off-road control.
2013 Lexus LX 570's drivability has also been enhanced, thank to the steering wheel-mounted paddle shifters, which work in unison with LX 570's six-speed sequential automatic transmission.
The interior of the vehicle also includes number of upgrades.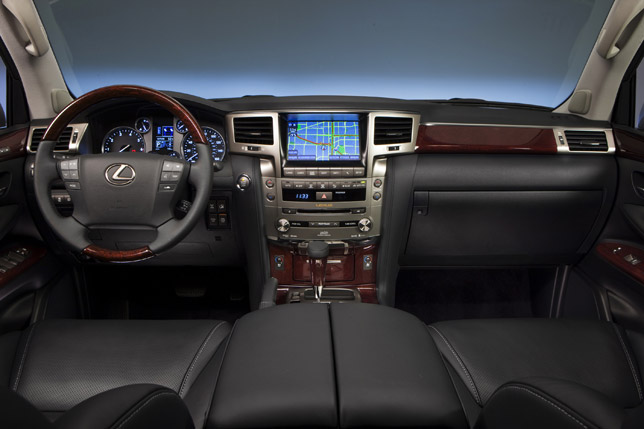 First, the centre cluster has been modified and now comes with reduced number of buttons for simpler operation.
Secondly, the driver seat has new Easy Access system. This system makes entering and exiting the vehicle easier by retracting the driver's seat and steering wheel when the ignition is turned off.
And if you wonder about the front seats – they now feature improved ventilation, and a 220-volt power outlet, which has been added to the cargo area.
How about the instrument panel: it now has full colour, multi-information display, as well as one touch turn indicators. In addition, it is now with metallic finish. The same finish can now be recognized at the side air vents, along with a new metallic accent above the glove box. And for the convenience and comfort of the back-seat passenger there is also featured a new dual rear seat entertainment system. The interior is offered in two trim colours: ivory or black leather-accented one. Of course, the exterior colours are also updated and now feature two new: Mercury Gray and Sleek Ecru.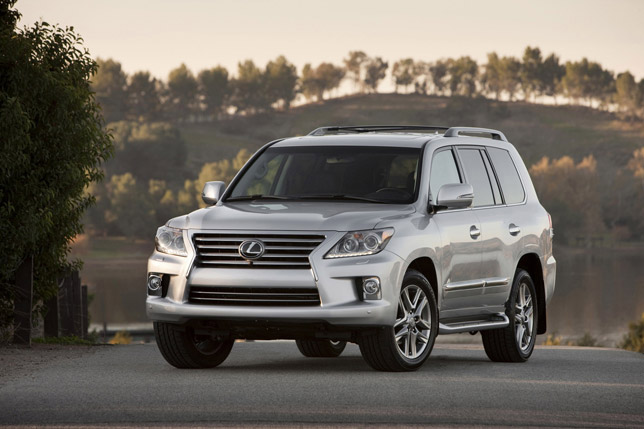 There is no change however in the standard specification, and it still includes: Multi-Terrain Select and Display, Crawl Control, Adaptive Variable Suspension, cool-box, dual-screen rear seat entertainment, 20-inch alloy wheels, reversing camera, smart start and entry with Smart key, four-zone air-conditioning, daytime running lamps, 10 airbags, Mark Levinson 19-speaker audio, front and rear clearance sonar, BluetoothTMcapabilities.
The enhancement pack now offers: Lexus Pre-Collision safety System+, Active Cruise control+, rear seat heaters, ventilated front seats, paddle shift and the inclusion of mahogany wood grain-look interior trim, including on the steering wheel.
LX 570 Pricing
Variant
Model
Price
LX 570
LX 570
$140,900
Enhancement pack 1
$156,900
Source: Lexus