Liberty Walk Dodge Challenger Hellcat Goes Green

Liberty Walk Dodge Challenger Hellcat might seem to you as a very common name if you follow our blog regularly. And it is common. We have seen a similar car a couple of months ago, which was the result of the joint work of Liberty Walk and SR Auto Group. Unlike the first white car, this example comes in toxic green exterior color and this and no other reason (like electric motor) makes the vehicle go green.
SEE ALSO: Liberty Walk and SR Auto Unite for Monstrous Dodge Challenger Hellcat
The pure raw American muscle car is basically another angry cat that has come out of SR Auto's bag. The Canadian tuning specialists have given it a Liberty Walk wide body kit. And we must admit that it gives the Dodge menacing and fierce look.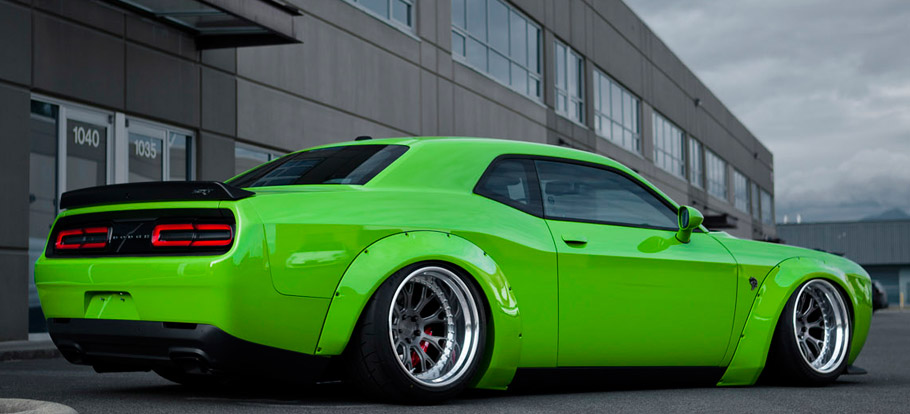 Just like the white Hellcat, the widened body was supported by Airrex air suspension system, which lowers the height of the Challenger significantly. The lowered ride height and the wider body proportions just screamed that they need new wheels.
So, the expert heard that and decided to install a set of forged three-piece PUR LG05 wheels with a matte black diamond face and polished step lip. With a compressor in the trunk, the lines run through to all four corners to increase and decrease pressure. Oh, and have we mentioned that the wheels measure 20-inches?
But there is still one problem. We can not decide which car we like better: the white one or the green one? What's your choice?
Source: SR Auto Group