The Hellcat is back with 900HP and more aggressive than ever!

Prior-Design is mostly famous for its exclusive tuning and aerodynamic kits as well as beautiful sets of wheels. We can hardly expect from these experts engine uprating or even something that can bring out more from the inherent power of car's powerplant. However, the case with their latest project is actually the opposite and we have surprisingly found that Prior-Design can actually make things pretty cool!
The chosen car is the newest Dodge Challenger Hellcat, which impresses with its stock output numbers coming from its 6.2-liter supercharged HEMI V-8 unit. Precisely, it produces a maximum output of 707 horsepower (520 kW) and 880 Nm (650 lb-ft) of torque, which is enough to enjoy hell-of-a-ride.
SEE ALSO: This Red Hot Dodge Challenger coming directly from... Hell
But… 707 hp seem not enough for many and this is why the performance of the Hellcat has been boosted up with additional 200 horsepower, making it up to over 900 hp (662 kW)! Sadly, we can't tell how these extra horses were achieved because no official details were announced so far.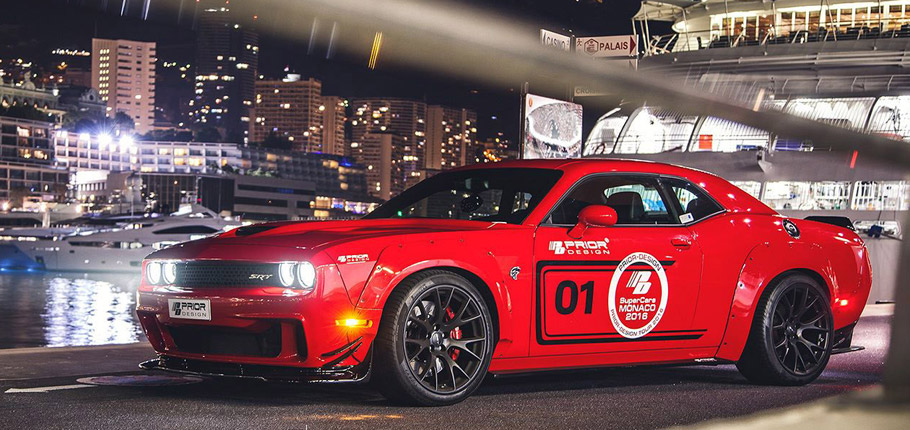 Besides the output uprating the car, the car received widened exterior via the addition of a PD900HC package. Thanks to it, the car achieve not only wider but more aggressive stance. Precisely, the aero kit comprises of an add-on spoiler for the front and rear, side skirts as well as trunk spoiler. The front and rear widenings have to be mentioned as well.
Contributing for the aggressive appearance are the bronze PD3Forged wheels as well. However, we do think that the chosen bronze color is rather… strange. Just for a comparison, the Canadian studio SR Auto Group has recently introduced their Hellcat based project, which we dig very, very much (click the link above for more info)! And we like the wheels, too!
Source: Prior-Design via Facebook