This Custom Mercedes CLA45 is a Real Turbo Sapphire

Loewenstein Mercedes-Benz CLA45 AMG is also popular under another name, which is the SAPHIR LM45-410 Turbo. The car has been customized and now features extensive wide body kit and enhancement for its engine. CLA is actually one of the newest additions in Mercedes line up of vehicles, which has powerful characteristics and in fact is capable of stock 360 hp (265 kW) and a maximum torque of 450 Nm (333 lb-ft). These numbers make the engine driving the CLA the most powerful cylinder unit worldwide.
Power Uprating
Loewenstein were impatient to do more for the CLA and therefore they have created a Plug&Play system, which is fully reversible in less than 1 hour work. The module helps the powertrain produce 410 HP (305 kW) and 530 Nm (391 lb-ft) of torque. But there is more, precisely: in-house made downpipe with sport catalytic converter and a full carbon fiber engine hood with integrated induction air-intake with sport air filters. As a result, the peak performance jumps to 425 hp (313 kW) and maximum torque of 540 Nm (399 lb-ft).
SEE ALSO: Mercedes-AMG Celebrates F1 with A45 4MATIC Champions Edition 
Optical Refinement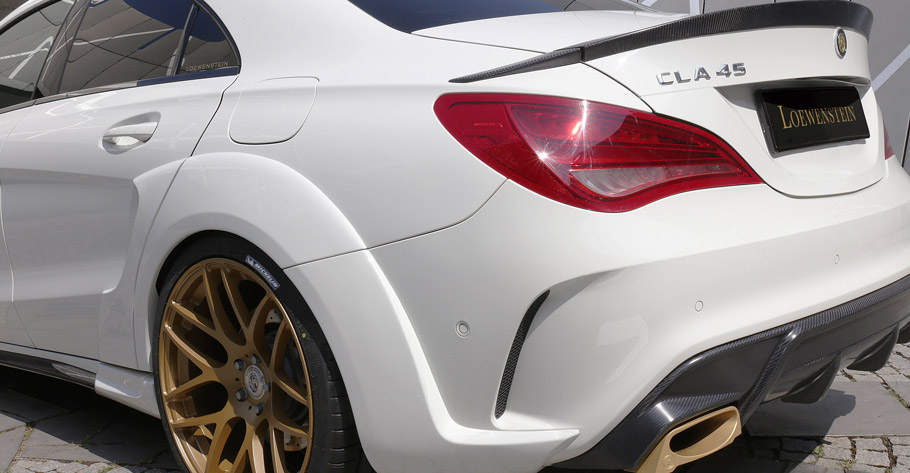 Besides the engine modification, Loewenstein gave the CLA an optical refinement with carbon fiber aerodynamic program, which includes the following details. First, the widebody is made of the lightweight carbon fiber. There is a 20 mm widening per side on the front axle, which is completed with a carbon fiber RS front spoiler. At the rear we see a huge tail with its 40 mm widening per side, which is further highlighted with a three piece carbon fiber trunk spoiler. Carbon RS rear diffuser and the milled design exhaust end tips are rounding out the optical modifications here.
CONCAVE wheels in sizes 8.5x20 and 10x20 inches at the front and rear were coupled with slip-proof Michelin Pilot Super Sport high-performance tires of the dimensions 245/35 ZR20 on the front axle and 285/30 ZR20 on the rear axle. And therefore they perfectly fill out the enlarged wheel arches.
Details Inside
Loewenstein did do something special for the interior. The passenger compartment now features a lot of carbon fiber on the steering wheel, the door decorative strips and the dashboard appliances, including the middle console. Floor mats and baggage compartment protectors were also added and they were made of soft velour, and they basically round out the extensive tuning program for the CLA.
Source: LOEWENSTEIN