LSD Doors for the BMW Z4
Fancy a unique feature on your BMW Z4? Well, add some character with Lamborghini Countach style doors. Spread those wings and turn heads as you go – its the LSD-door hinges offered by LSD. That type of upgrade is a first among BMW Roadsters with a foldable hardtop.
The standard door structure pretty much stays the same. It's the hinges that make the difference. The package includes them and all the necessary wiring and mounting materials and accessories. The LSD door fittings are attached to the original mounting points of the dismantled original hinges. Adjustable, mechanical stops prevent the doors from opening too far or, when open, prevent the door from falling inwards or downwards. Thanks to the Guided Roller System (GRS), all of the processes can be executed precisely and safely.
All parts provided come with TUV certificates and, on the car, the doors fare just as good in crash tests. So the LSD solution for the Z4 turns out as a very clever and seamless way to add some spice to this iconic roadster. All and all, one has to pay $2.308 for that privilege.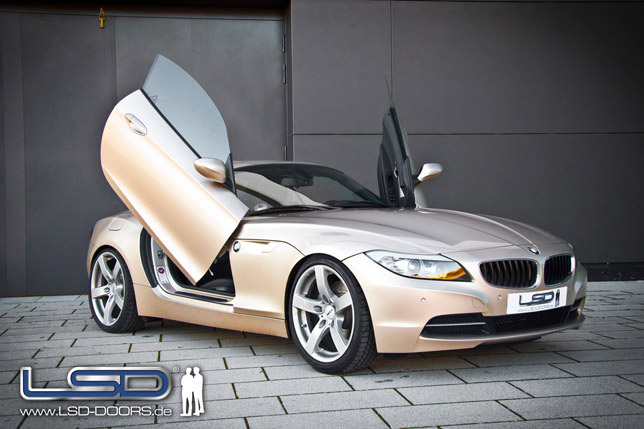 Source: LSD