LUMMA CLR X650
LUMMA Design has unveiled a brand-new BMW X6 based-conversion dubbed LUMMA CLR X 650. Boasting exclusively restyled exterior vision and interior ambience, the LUMMA CLR X 650 exudes extremely sporty character and individualism.
At first glance, the all-new BMW X6 -transformed beast has more sophisticated and bolder look, thanks to LUMMA's dual-tone paintwork and new bodykit that includes: front spoiler, rear bumper, side skirts, sporty looking bonnet and rear spoiler. More detailing is ensured by the carbon-made rear lip, mirror covers, front kidneys and headlamp visors, which further underlines the car's athletic aspirations. At the rear, a X6M-like four-pipe sports exhaust unit is mounted, and in conjunction with the LUMMA D-Box, more serious roar and performance is achieved - 340 horsepower (250 kW)  and 670 Newton metres of maximum torque.
Moreover, the outer dress of the refined BMW X6 sports new 22-inch rims in staggering design wrapped in high-performance tyres in the size 295/30 and 335/25, and sports spring kit, which brings the masterpiece SUV around 40 millimetres lower to the tarmac.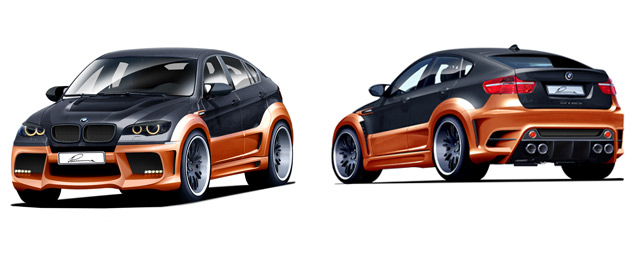 Moving inside the cabin, the eyes of the fans are pleased by four individual Recaro sports shell seats and leather/Alcantara upholstery in black and beige, finished-off with decorative seams in the contrasting colour. Additionally, an ergonomically shaped, leather upholstered sports steering wheel and leather covered carbon-look interior ledges bring the five-star styling to the LUMMA CLR X 650.