LUMMA Design BMW 650i
Design House Lumma will take part in the 82nd Geneva Motor Show by showcasing a CLR 600 GT. You would be forgiven to think that such a name can only come after crossbreeding a Mercedes with a Ford  but the thing is, that underneath the branding and aerodynamic fitments we have a BMW 650i
The Lumma people seem to be attracted to cabriolets as the 650i is the sixth open-top to come out from their works. The company has left its mark on the body with a subtle aerodynamic kit that consists of a front spiler with LED daytime running lights on it, some side skirts and a diffuser at the back. These additions are said to "give the BMW Cabriolet a sporty appearance..." but giving a sporty appearance to a BMW 6-series is like importing ice cubes to Antarctica. From underneath, four, stainless steel pipes (90 mm in diameter each) give away the custom flow muffler. But even if you do not catch a glimpse of the posterior, you will most certainly hear it roar. Four are also the Black Lumma GTB Monoblock alloy rims wrapped with Vredestein Ultra-High-Performance 255/35-20 tires at the front and 285/30-20 ones at the back. The dark finished racing spokes present, reveal contrasting yellow brake calipers for that extra daring feel.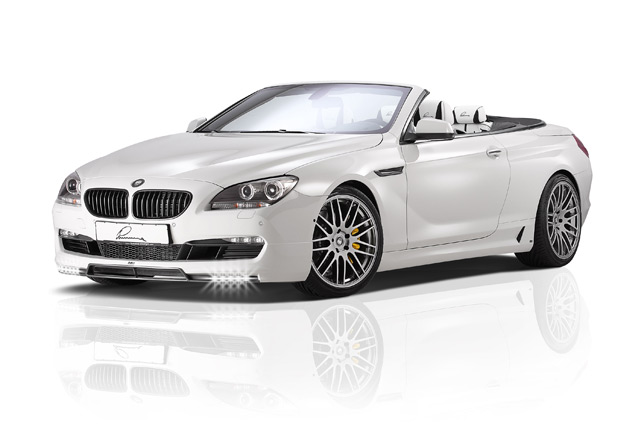 Speaking of daring, we cannot omit mentioning the Lumma tweaks on the BMW's power plant. The TwinPower V8 which usually produces 408 bhp has underwent some engine electronics overriding and now we have a 490 restless horses ready to go out. Torque has also been revamped and now it peaks at 720 Nm. This performance upgrade will benefit acceleration but in terms of top speed the limiter stays at 160 mph (5 mph more than standard).
Inside there is enough leather and Alcantra to shock even a fashion designer. The pedals flash from down under with their aluminum shine while the floor and trunk mats are from velour. A "Lumma" inscription on the glove box lets you know that there are people out there who think for you and your dream to be an exclusive individual in an exceptional car.
Source: Lumma Design