Manhart MH2 Clubsport Based On BMW M235i Coupe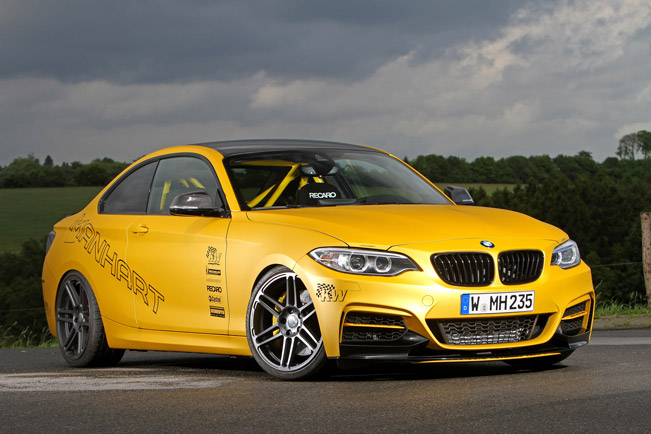 Manhart BMW M235i Coupe MH2 Clubsport does not produce 326 horsepower as its production M235i Coupe sibling. And in fact it has nothing to do with it. This of course is because the specialists at Manhart did their work very well. Let's review what they have done to create this impressive tuning. The brand new production BMW M235i Coupe is driven by 326 hp (240 kW) six-cylinder turbo, which delivers 450 Nm (333 lb-ft). Via a performance boost using an additional process control system, the MH2 is now dragged by almost 430 horsepower (316 kW) and a maximum torque of 592 Nm (437 lb-ft).
Parallel to this, Manhart also added bigger charging air intercooler for better cooling and a special sport exhaust system with downpipe and 200-cell sports catalyzers. In addition, the specialists removed the factory-fitted Vmax block, thus helping the vehicle move beyond the 300 kph.
Moreover, Manhart Performance also installed axle back exhaust with two round 90-millimeter stainless steel tailpipes and reinforced sports clutch. The perfectly aligned chassis relies on the 3-fold adjustable Club sport coilover kit including support bearings and its own alignment for the MH2 Clubsport.
MH2 Clubsport rides on Concave One rims of the size 8.5x19 inches fitted with 225/35ZR19 tires at the front and 9.5x19 inches with 255/30ZR19 Michelin Pilot Super Sport tires at the rear. For optimum braking power, the designers added serial system on the front axle with the 6-piston fixed calipers with disks of size 350x34 mm and Pagid sports brake pads and steel flex lines. There are also Pagid brake pads and steel flex lines on the rear axle.
Inside, one can see that there is no rear bench. At the front, there is a colored Recaro Pole Position full-shell seat with the 4-point suspender belts. The driver's space is decorated with a special handbrake handle, a gear lever knob and an aluminum pedal lining from the BMW Performance program.
An additional display was installed in the center console in place of the left ventilation nozzle. It shows all important engine parameters such as charging air pressure, oil pressure, intake temperature and oil temperature.
Manhart also relies strongly on the sportiness of the external shell of MH2 Clubsport. Here the tuners added parts which improve the aerodynamics: front spoiler, rear diffuser and the rear spoiler made of carbon. The carbon mirror covers perfectly contrast the yellow special wrap.
Source: Manhart