Mansory Carbonado Lamborghini Aventador LP700-4
There are only six of these Lamborghini Aventadors most, probably because there isn't any more carbon-fiber left in the world. It's the Mansory Carbonado - "Black Diamond" Lamborghini Aventador LP700-4. All of the additional Mansory body components are made of prepeg autoclave carbon-fiber and all fit "seamlessly into the car". We beg to differ.
The bumper is all new and redesigned with now better inlets. There's a new lip spoiler as well. The hood has been completely replaced and even the fenders which now enhance the width of the Aventor by 40 millimeters. The side sills now "steady the airflow" between the wheelbase and simultaneously channel air to the engine and the big brakes. At the back, a diffuser works alongside a rear wing so the rear wheels never run out of grip (not that an AWD Lambo tends to do that). There's one more thing – the roof and the engine cover have also been replaced and the material? You guessed it. It's carbon-fiber. The forged wheels with carbon-fiber inlays are equally impressive standing at sizes 9.0 x 20 and 13.0 x 21. The tires wrapped around them measure at the impressive VA 255/30 ZR20 and HA 345/25 ZR21.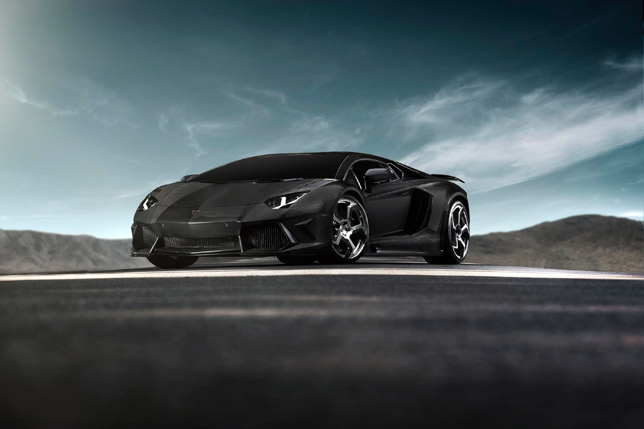 It's not all flash and... carbon with this "Black Diamond" since the guys at Mansory have also tweaked the power and have thrown in a high-performance exhaust system. That means 754 PS at 8300 rpm and 750 Nm of torque at 6000 rpm, an acceleration from zero to 100 km/h in 2.8 seconds and a top speed of 355 km/h.
Inside, the seats and dashboard are all treated leather. Just when you think that there's no place to slot in some carbon-fiber, Mansory manage to amaze us with several carbon woven components. Other than that, the wheel is completely different while the "non-slip" aluminium pedals complete the look.
So there you have it, the Mansory Carbonado Lamborghini Aventador "Black Diamond" in all of it's glory. You like?
Source: Mansory